The latest installment of Fresh Tracks features new indie rock songs that cover the genre territory between folk, anti-folk, acoustic, alt. country, pop, rock, alternative and singer/songwriter – all from the following artists and bands.
Mac DeMarco – Brooklyn, New York
Kevin McWha Steele – New York, New York
Kenny George Band – Aiken, South Carolina
Ender & Valentine – Brooklyn, New York
Kinky – Monterrey, Mexico
Samantha Fish – Kansas City, Missouri
Chase Emery Davis – London, England

*DeMarco illustration by Fabrizio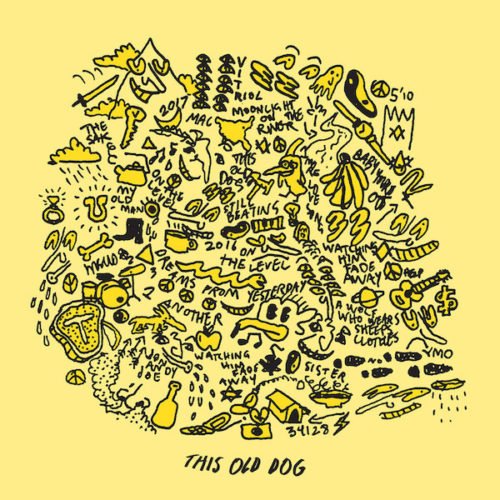 Mac DeMarco – "This Old Dog"
During the past few years, the name of Brooklyn-via-Canada singer, songwriter and multi-instrumentalist Mac DeMarco, keeps popping up as a musical influence for other artists and bands from around the world that we feature on IRC.
It's no big surprise really. DeMarco is a wonderfully gifted artist; a musical and literary whiz, and a back-to-roots troubadour who has captured the ears and imagination of many indie music fans thanks to his truly outstanding and enjoyable albums featuring his amazing song craft and genre-bending compositions.
Mixing lo-fi sounds, out-of-tune acoustic guitars, rudimentary percussions, groovy, driving folk-rock like rhythms with Sonic Youth and Lou Reed influences on his new single, "This Old Dog" is the exciting title track from DeMarco's fifth release due out in May. It goes without saying that there are many DeMarco fans idling waiting for the drop.
DeMarco's breakthrough 2012 debut album,Rock And Roll Night Club, which also received a strong showing of support on Bandcamp, is a remarkable achievement. Since then, he has continued to build his prolific and explorative discography, and as a result, his following.
His 2014 release, Salad Days, spurred DeMarco to a meteoric rise. We can't wait to hear what the rest of the new album sounds like.
Pre-order This Old Dog on DeMarco's Bandcamp page. Drop date: May 5th
Kevin McWha Steele – "Front Page News"
Based in New York City, songwriter, poet and musician Kevin McWha Steele has won praise for his songwriting skills from iconic artists like Sting, Elvis Costello, Pink and Philip Glass.
Interestingly, Steele's songs are floating around the web in both French and English using both his real name and a number of pseudonyms.
Steele is also known for his silky, crooner voice. But on other songs, like his swaggering alt. rock single, "Front Page News," Steele is just as comfortable switching up his vocals and letting his rock and roll persona fly, recalling his musical heroes like John Lennon, David Bowie, Prince and Patti Smith.
The genres that Steele weaves so effortlessly include indie rock, indie pop, psych rock, alternative rock, acoustic/folk, and international (French) music. His new album, The Nightly Howl, is out now.
Kevin McWha Steele on Facebook
Ender & Valentine – "Howl"
Based in the hipster artist enclave of Brooklyn, musical duo Ender & Valentine, recently released debut album. The album is the culmination of two years of work from two musicians, Alex Crous (guitar, keys, programming, vocals) and Nadya Grace (vocals, bass).
The duo self-funded the album with the help of New Jersey production wizard Steve Wall (Mother Feather, Fancy Colors, Jeff Taylor), who added "electronic color and punch to Crous' urgent and hooky bedroom pop compositions."
The single, "Howl," is sparkling, upbeat, and inspiring bedroom pop with layers of synth effects, uptempo beats and a retro-styled vocals from Crous and Grace, making for an irresistible dance track.
MP3: "Howl" – Ender & Valentine from Síofra
The second track to be featured, "In The Hall," is a shot back in time with plenty of seemingly Joy Division and Pet Shop Boys' influences throughout, even though the duo doesn't list either of them among their top musical influences. However, we can hear the influences of artists they do list as influences, including Beck, Radiohead, and Bright Eyes. Ender & Valentine have opened for artists like Tsao Band, The Junkie Twins, and Crystal Voyager.
Kinky – "Te Vas"
The Monterrey, Mexico five-member alt. rock band, Kinky, which initially made a splash in the United States nearly two decades ago with their second single release, "Mas," have released a pair a new singles in the past year, including the newest Latin-dance and electro-driven "Te Vas," and the more experimental and world music-leaning, "Desaparecer."
Around the world Kinky is known for their creative and colorful electronic alt. rock style, thanks in large part, again, to the huge success of "Mas." The band's music is heavily influenced by Latin music, rock, dance, and techno.
Not long after, the incredibly popular song, which received heavy radio play, and for better or worse, was used in commercials for Nissan and NBC's TV series, Kingpin, as well as video games SSX 3 and Crackdown, and in the movie Thirteen. Another of the band's early singles, "Field Goal," was featured in an episode of CSI and as the theatrical trailer for the movie 2 Fast 2 Furious.
In 2002, Kinky joined top indie bands like Cake, De La Soul, The Flaming Lips, Hackensaw Boys, and Modest Mouse on the Unlimited Sunshine Tour as well as appeared more than once at the famous music festival Coachella. The band members include Gilberto Cerezo, Ulises Lozano, Carlos Chairez, Omar Góngora, and Cesar Pliego.
Kenny George Band – "Picket Fences"
Hailing from Aiken, South Carolina, the members of the Kenny George Band will drop its debut album, Borrowed Trouble, on April 28th.
With influences that range from Willie Nelson to Wilco, TKGB are "a good old southern rock band" whose new single, "Picket Fences," with its gentle acoustic strings, slide guitar and the warming vocals of George's smooth vocals.
The other tracks on the album explore the common themes of relationships, longing and the trails of life, but with a specific reference from the point-of-view of a musician on the road. The songs are deep, driving, road-focus with melodic and yet gritty sounds resonating throughout. Some of George's writing reminds us of Ray Davies' (The Kinks) many songs about life on the road, particularly in the mid to late 1970s era.
The TKGB band members include founder Kenny George (lead guitar, vocals, songwriter); Bucky Brown (drums, harmony vocals); Center Ely (steel guitar); Brooks Andrews (bass) and Scott Rankin (rhythm guitar, harmony vocals).
The band has been touring across the south, and into states like Pennsylvania and Missouri, for the past few years, building a fan base and playing upwards of 180 shows per year. TKGB's energetic live performances have made them increasingly popular throughout the south and heartland, and they were voted a 'band to watch' by the South Carolina Music Guide.
Samantha Fish – "Either Way I Lose"
From a relatively young age, musician Samantha Fish has made inroads into the international blues festival circuit, sharing the stage with artists like Buddy Guy, Tab Benoit, The Royal Southern Brotherhood and Luther Dickenson, thanks to her skilled guitar playing and unforgettable voice.
On March 17, Fish dropped her fourth CD, Chills & Fever, showcasing R&B gems from the 1960s and 1970s, and featuring unforgettable melodies from the pens of legends like Allen Toussaint, Jackie DeShannon, Jerry Ragavoy and Bert Berns, among others.
"I listened to a lot of soul music, and I dug deep into people like Otis Redding and Ray Charles," Fish recalls. "I was also influenced by people like North Mississippi's R.L. Burnside and Junior Kimbrough. It's a less restrained style of music than the sound people may be used to hearing from me, it's definitely a different facet of my personality."
Notable tracks include "Either Way I Lose" and "Crow Jane," the latter of which is a rocking remake of the Skip James' version dating back to the early 1900s. While the true origin of the song is unclear, Fish gives it a modern cadence. The Huffington Post wrote: "Fish is leaving her fingerprints behind as evidence of her hellacious handiwork. Just imagine what the woman with the golden touch will do next."
Chase Emery Davis – "Little Locked Up"
Born in New York, raised in Paris, and living in London 21-year-old Chase Emery Davis is a British/American songwriter, vocalist and composer whose new album, Waiting For Her, offers the heartbreaking, genre-bending single, "Little Locked Up."
Chase blends indie rock, pop and soul genres into lush, emotive songs about love and hope, highlighting his accomplished, haunting and powerful baritone vocals. It's no surprise that he has had professional vocal lessons growing up in Paris. Davis is a fan of artists like White Lies and Keane.
As Hughie Dixon of The Uxbridge Gazette wrote: "His semi-baritone operatic depths could deceive you into thinking you are hearing a seasoned veteran vocalist…but this rare talent is barely pushing 21."
MP3: "Little Locked Up" – Chase Emery Davis from Waiting For Her