Now that it is finally spring, it's time to start highlighting just a few of the new DIY indie music releases from this year so far that we are digging, featuring bands from California, Tennessee, Alabama, Texas, New York and overseas from Scotland and Germany.
We Govern We – Ventura, California
The Outer Vibe – Nashville, Tennessee
Alabama Deathwalk – El Paso, Texas
Zach Cannella – Nashville, Tennessee
Ruby Bones – Brooklyn, New York
DOTE – Essen, Germany
Bobo and The Demeraras – Glasgow, Scotland
We Govern We – Zano
Just beyond the boundaries of the Los Angeles city limits, and situated along the 101, is the coastal city of Ventura, California where the alternative rock band, We Govern We, has taken root in recent years. Busy with adult lives of paying bills and raising families, the members of the band find time to continue to nurse their project.
Now, the new sophomore album, Zano, has already produced one single, "Red Rover," which received over 6K plays on SC alone in just a few weeks after its release in January.
With whip-like beats, sultry vocals, pensive lyrics and sonar-like sounding electro vibes and grinds, "Red Rover" is hard not to listen to; it draws you in, and it's just one of a number of standout tracks on the album – WGW's follow-up to the celebrated 2011 debut, Reznor's Child.
The No Doubt-like verve on the band's cover of "Punk Rocker," plus the cinematic rock of "Mulligan's Island" (the video for which came out years ago and received various nominations), the uplifting verve of "Sunshine," and the brooding, slow burn rocker, "Grey Sea," all lend their own unique contributions to the EP as a whole. There is a sense of mystery and even mysticism in the sounds and vocals throughout the EP – one its numerous allures.
MP3: "Red Rover" – We Govern We from Zano
WGW's sophomore EP demonstrates the band's musical and lyrical maturation process just since their debut. As founders, and husband and wife, Panos Scourtis (guitar) and Anna Karakalos (vocalist, songwriter), like to say that WGW was "born in Greece and raised in California."
The other experienced and talented members of the band include guitarist Alexis Cohen, bassist Adrian Burke and drummer John Boutin to solidify the band's percussion.
Album Stream: Listen to Zano via the band's official website
WGW dropped its acclaimed debut album, Reznor's Child, produced by Daniel Ash (Bauhaus, Love & Rockets), in 2010. Previously in the popular Greek rock band, Sigmatropic, Scourtis and Karakalos have toured Europe and opened for artists like Moby, Sonic Youth and Nick Cave and the Bad Seeds.
The Outer Vibe – "Sweet to the Rind"
The five-piece indie pop band The Outer Vibe from the music city of Nashville are self-described as "cinematic surf disco (think Clint Eastwood drinking a pina colada at a Dick Dale concert)."
After recently signing a publishing deal, the band dropped a collection of new tracks, including singles like "Why Don't You Listen" and "Sweet to the Rind."
As demonstrated on the riveting "Sweet to The Rind," the band's style is based on diverse genre-mixing format, in this case featuring R&B and funk rhythms and grooves, shimmering rock guitars and an awesome horn solo.
The Outer Vibe has been putting its talents to hard work over the years, gaining each fan deservedly . The band members – Sean Zuidgeest (vocals); Nick Hosford (guitar); Lisa Kacos (trumpet); Wunder Dornoff (bass); and Noah Snyder (drums) – have carved out and honed their own sound.
They've opened for a bunch of alt. and indie bands, including Train, Young the Giant, Kongos, and Borns, since forming in 2002 after the five friends decided to start up the band. Not many bands last 15 years in the music industry, and it's nice to see these guys haven't become ordinary. The band members are fans of artists like Electric Light Orchestra, Ennio Morricone, Paul Simon, Justice, and Spoon.
MP3: "Sweet to the Rind" – The Outer Vibe
Alabama Deathwalk – Steep Hills
For more than a decade now, El Paso musician Eric Reed, has been attracting press and fan adulation within the indie rock world for his series of DIY albums as the artist Alabama Deathwalk.
Reed's celebrated style of Americana-meets-emo with tragic lyrics of heartbreak of the modern age, has captured the attention of popular indie bands as well, including Built to Spill, Deertick, Appleseed Cast, and Porches – all of whom have tapped Reed to open for them when they passed through the region on national tours.
Reed's newest release, the haunting album, Steep Hills, has produced the emo-leaning single, "Friends", a touching tribute to friends Reed lost tragically in recent years. The music video for the song, directed by Sheridan O'Donnell, is wonderfully crafted with a touching, and appropriate, black and white short film.
Reed's authentic songwriting and performance on Steep Hills obviously wouldn't be as accomplished as it is without band members Simeon Beardsley (guitar); Rod Mendoza (bass); Josh Mendoza (drums) and KT Neely (vocals). Apparent in the band's songs, Alabama Deathwalk is heavily influenced by, and similar to, artists like Bright Eyes, David Bazan, Pinegrove, Sunny Day Real Estate, Ryan Adams, and Rocky Votolato.
Other notable tracks on Steep Hills include the electric lashing beats, lonely ringing guitar, and melancholy vocals of the memorable "Two Weeks," with swelling choruses of instrumentation and vocals near the song's conclusion.
Even more stand out tracks on Steep Hills, and there are a number, include the math art-like indie rock of "Confessionals Part Two" and the poignant breakup song, "Dallas." There is also the lo-fi Americana-meets-emo meandering track, "11:14," and definitely don't miss Reed's heartfelt lyrics, shaky, screeching vocals, high school band-like background drumming, and wonderfully melodic, sweeping synth swells on "Freaky." From beginning to end, this is one of the best DIY albums of the year so far.
You may also want to take a listen to Reed's thrilling, soaring post rock/indie rock hybrid track, "Plans," (listen here) from 2015. The album was produced by Reed and Ross Ingram; recorded and mixed by Ingram at Brainville in El Paso and mastered by Luke Dumke at The Yard in Las Cruces, New Mexico.
Zach Cannella – Jephthah
When songwriter and musician Zach Cannella arrived in Nashville from his hometown of Chicago a few years ago, he brought with him "a different outlook on the genre of country and a unique interpretation on what makes an 'indie folk' musician."
At first, the layers of acoustics and strings on the standout title track of his new EP, Jephthah, flow like gentle streams with Cannella's wonderfully lush melodies, pitch-perfect vocals, sound effects and booming percussions that all converge into a sweeping chorus before the song downshifts again. The second single, "South," from the EP is an uptempo country-tinged rocker reminiscent of Kurt Vile.
MP3: "Jephthah" – Zach Cannella from Jephthah
A student of music composition at a music conservatory in Chicago, it wasn't long before Cannella discovered that the art and process of songwriting was "the most honest form" of artistic expression. Cannella's musical influences include Bon Iver, Sufjan Stevens, and Jose Gonzalez.
Ruby Bones – Ruby Bones
With unfettered guitar rock hooks, energetic rhythms and existential lyrics on songs like "Heart of Darkness," the new Brooklyn indie rock band Ruby Bones make no bones about enjoying themselves.
The track reminds us a lot of The Strokes, and in a good way. The band's guitarist and vocalist Chris Nova, describes the track this way: "It's heavy without being macho, all while embracing pop melodies and big hooks."
On May 12th, the band will drop their eponymous debut album. Ruby Bones main musical influences include The Thermals, The Walkmen, and Spoon. The other band members are James Janocha on drums and FC Spies on bass.
MP3: "Heart of Darkness" – Ruby Bones from Ruby Bones
DOTE – North
Uptempo Strokes-inspired guitar riffs and hooks; booming bass lines; a grooving rhythm and beat, and the fantastic Robert Smith-like vocals of Jonah Lemm (guitar, synth and programming) comprise the unforgettable, melodic hooks of the hot new single, "Cold Lips," from the band DOTE's debut EP, North.
If you dig "Cold Lips" as much as we do, you can listen to the rest of the EP on Spotify. We've been listening to it for a couple of weeks, and it's a grower. Other tracks like the seductive, Bowie-influenced, "Blind," the mood-swinging synths of "Arcane Love" and the ringing guitars of the anthemic-like "Ghosts."
The other band members – Lukas Hueskens (vocals, drums, percussion), Moritz Arendt (guitar, synths, Rhodes), and Niclas Beba (bass) have been friends since they were school boys growing up in Essen, Germany. But they didn't start to create music together until their late teens.
Now in their early 20s, the band members "like to sing about red wine and cigarettes with danceable beats and dark electric sounds," Lemm exclaims. DOTE's musical influences include Foals, The 1975, Phoenix, Ben Howard, The Cure, the xx, and The Smiths.
MP3: "Cold Lips" – DOTE from North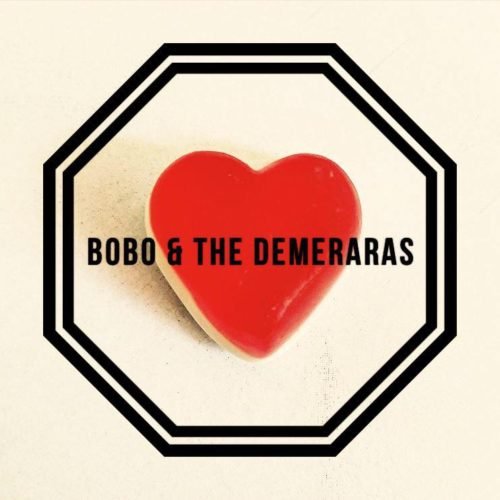 Bobo and The Demeraras – Uptopia Eurotica
Formed in Glasgow, Scotland during the summer of 2014, a couple of touring veteran session musicians – lead by Craig Bobo France (vocals, guitar and keys) and Billy Hudson (drums and production) – decided to write and record their own album as Bobo and The Demeraras.
That 2015 debut album, Heart Goes Blind, received many glowing reviews and thumbs up from Nik West (former Prince bassist) and Johnny Marr (The Replacements founder). The duo's major influences include The Stone Roses, AIR, Tame Impala, and Kraftwerk.
The group's second album Uptopia Eurotica, out now, is full of dreamy sci-fi synth pop songs like the space love song, "Oktogon" and the floating melodies and emotive vocals of "Everything (Is You)" with it's memorable guitar hook.
MP3: "Oktogon" – Bobo and The Demeraras from Utopia Eurotica (Feb. 28th)