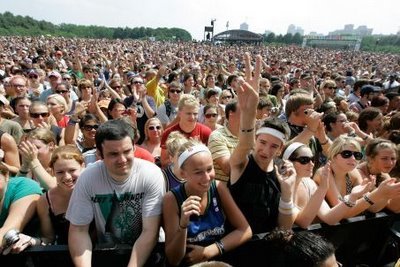 Today's Music Festival Round Up Report, Part One:

– Bamboozle Left is on this weekend in Irvine, Califronia. Get a report, see the lineup and sample some of the fest performers' MP3s. Read more…

– The V Festival in Australia is losing money, according to billionaire tycoon Richard Branson, but he says in the long-run it will be worth it. Nevertheless, tens of thousands have turned out for the second years of the Down Under's traveling festival, which continues this weekend. Read more…

– The official line-up for Lollapalooza 2008 will be announced only hours from now and there will be a full guide to Lollapalooza posted here when it does, including the full line up of artists, videos and MP3s of the best Lolla performances and artists of last year's event. In the meantime, here's all the news for Lollapalooza 2008, including rumored headliners, ticket sales and the wait game. Read more...

– South by Southwest 2008 was another resounding success, proving once again that it is the king of all festivals for just about everything currently hot, and up and coming, in the world we call indie rock music, film and art.

Here are a series of articles about SxSW, and just in case you didn't get enough of the popular music festival, the following links provide more from SxSW:

– – An argument for why South by Southwest is the best music festival of all the others around the world to attend.

– – Gallery of SXSW 2008 photos

–

http://stereogum.com/tag/sxsw – Stereogum's full coverage of SouthBy is worth checking out for South by Southwest fans and those curious about what SxSW is all about.

Check back or get the feed; more festival news coming throughout the next week to keep you completely briefed on everything that's going on (with focus on the major music festivals for practical reasons) for 2008 music festivals around the world.