With summer just around the corner, the releases are coming in at a mad pace, and there are plenty of great indie and DIY tracks you'll likely only hear on IRC. Also, thank you all for your patience as we move the site to totally SSL (secure) and while we continue to work out the kinks with some of the site's features – all in the name of progress.
doubleVee – Norman, Oklahoma
Innocent Persona – New York, New York
The Sleeping Tongues – Brooklyn, New York
Evan Mix – Floyd's Knob, Indiana
Jack Kotz – New York, New York
Layla Frankel – Chicago, Illinois
Liz and the Lovelies – Chicago, Illinois
Plus, Quick Picks from around the world…
doubleVee – "Frucus Minus (The Flycatcher)"
Indie rock enthusiasts may remember the indie pop band The Starlight Mints who met with considerable fanfare within the sub-cultures of the indie pop movement back in the 1990s. In fact, they were one of the first bands, along with The Nixons and Chainsaw Kittens – and of course The Flaming Lips (who were OK City/Norman locals) – to put Norman, Oklahoma, solidly on the indie music map.
While The Starlight Mints may not have achieved the mainstream-style success that The Flaming Lips have enjoyed, the band made significant contributions to the indie genre. One of the Mints' founding members, and original founder, Allan Vest, has been working on a new project called doubleVee, with his wife and fellow musician Barb Hendrickson Vest, who married in 2015.
The husband-wife duo recently released doubleVee's wonderful debut album, The Moonlit Fables of Jack the Rider, garnering positive reviews online and in social.
The first video single from the album, "Frucus Minus (The Flycatcher)," is a quirky and entertaining video with a hypnotic bass and drum hook throughout, and a zany, melodic stomp.
"We had a blast writing this song," says Allan Vest. "We actually had too many ideas and got carried away before settling on the arrangement and final lyrics…once we had the line 'you're just a flycatcher' at the end of the chorus, we knew the direction the rest of the song was going to take. If doubleVee had a theme song, this would be it."
Among the various interesting and fun aspects that make up the video is the incorporation of a vintage North American T-6 Texan airplane made famous in World War II and a 1969 Buick Sport Wagon 400 along with some Wes Anderson-like characters.
The duo is influenced by artists like Legendary Pink Dots, Stereolab, Ennio Morricone, The Cardiacs, Os Mutantes, Philip Glass, Harry Nilsson, Jon Brion, and Bernard Herrmann, along with countless other artists. In 2015, Allan and Barb married.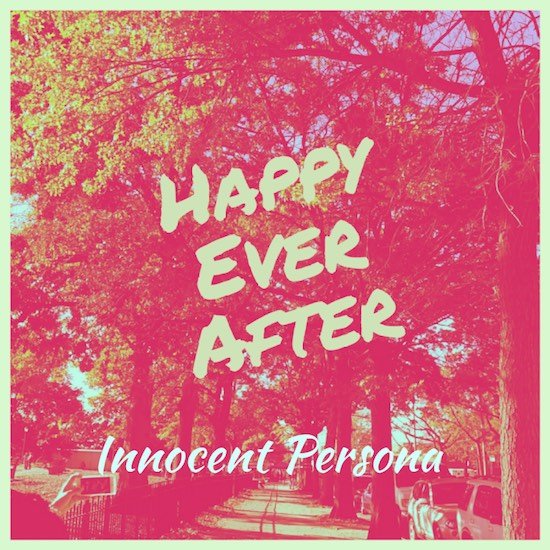 Innocent Persona – "Happy Ever After"
With driving melodic hooks, ringing guitars, booming percussions and somber lyrics, New York City indie pop rock band Innocent Persona's new single, "Happy Ever After," is the latest track from the band, which was formed back in 2015 by founding member, multi-instrumentalist and vocalist Ittai Stern.
"I wrote it with the intention of creating a 'fun stupid love song,'" Stern says. "I was actually influenced by Carly Rae Jepsen's 'Call Me Maybe,' a song about a girl who mets someone and falls in love immediately." Stern said the song's sonics are influenced by a range of artists like Blink-182, Boys Like Girls, Green Day, Fall Out Boy, and Simple Plan.
"The band takes a lot of pride," Stern says, "in our eclectic style, ranging from pop to alt-rock to EDM." The band's latest track is definitely more pop/rock oriented that is a perfect track for driving around on a sunny late spring afternoon.
It's clear that the band would not be as solid as it is, and progressing with each track, if not for the other talented band members, like guitarist/saxophonist Jose Alonso; guitarist/bassist Charlie Freeman; bassist Shalom Bondar and drummer Mike Landolfi.
Not long after forming the band, Stern met with Doug Staiman, another Los Angeles producer, who was formally the front man for the Queens punk rock band The Groggers.
Together, Stern and Staiman composed "Destiny," a 60's-influenced song, and the anti-war themed, "Celestial" from the band's self-titled debut EP dropped last summer. In recent months, the band's Facebook following has been growing, now up to more than 20,000.
Innocent Persona on Soundcloud
The Sleeping Tongues – "Waiting Room"
After success with past singles such as the romping single, "Bullet Train," Brooklyn indie band The Sleeping Tongues' new track, "Waiting Room," recently dropped and it's a pleaser for the band's fans, with ringing electric guitars, acoustic and Spanish guitars, plus synths peppered throughout; a Wurlitzer running the length of the track while a horn section featuring sax, trumpet, bass trombone and baritone sax jump into the mix, adding even more intrigue and brass to the song.
"The drums are mainly electronic and programmed," says frontman Craig Kepen, "There are live shakers, tambourines and claps mixed with programmed Timbales…the horns were played via keyboard from Native Instruments Kontakt, with the exception of a live take of my brother playing trumpet on top. Everything was recorded with an SM57 and CAD M9 condenser microphone."
The results speak for themselves. Over the course of time that we have been listening to the band, we have seen the advancement in their work and creativity. If you are in Brooklyn, catch a show from TST some night – they're not the standard fare.
Evan Mix – "We'll Listen To Something Else"
Based out of a small town in Indiana, avante garde/experimental bedroom recording artist and multi-instrumentalist Evan Mix, has dropped a number of singles over the years, and his latest, the colorful and unforgettable, "We'll Listen To Something Else," is quite a treat.
The track is a fascinating, multiplexed mosaic of artistic, even mathematical, instrumentation, sound effects, mixes, piano keys and dry vocals.
Mix also recently recorded the flashy, avante garde track, "Do Fun Wrong," which reminds us a little of some early They Might Be Giants demo, if you were listening to it on acid.
And that's just part of the allure of Mix; he doesn't play by anyone's rules. He could care less about – in fact mocks – commercial appeal.
Mix creates his own world and happily invites people into his playhouse of sounds to listen to his fun, sometimes tone-deaf, unconventional and truly original sounds.
MP3: "We'll Listen To Something Else" – Evan Mix with Jack Kotz
Layla Frankel – "Creature of Habit"
Blurring and overlapping genre lines with forays into acoustic folk, jazz, R&B, blues and soul, Chicago songwriter, vocalist and musician Layla Frankel had been writing and recording the songs for her new debut EP, Tame The Fox, for more than two years.
The EP is in some ways a musical extravaganza; the first single, "Creature of Habit," is a upbeat pop-leaning track with a country edge; on the opening country-folk single, with it's blues-heavy guitar, "To Disregard," Frankel's vocals seem to be greatly influenced by one of her musical proteges, Bonnie Raitt. Other songs like "Tenderly" has a jazzy allure; and an nicely done acoustic cover of The Cure's "Just Like Heaven."
Frankel's other musical influences include Sheryl Crow, Etta James, Joan Osborne, Joni Mitchell and Fleetwood Mac, and she has also opened for artists like B. Forrest, Cole Degenova, Heazza Official, and Sunny Side Up. The musicians supporting Frankel include Dave Hiltebrand (guitars, bass); Eddie Ganet (keyboards, organ); and Robert Rashid (drums, percussion).
Jack Kotz – "For The Stars (Under A Roof)"
New York City-via-North-Carolina musician Jack Kotz, who we've featured on IRC a number of times over the past couple of years, joins Mix at the end of the track for some vocal contributions.
His newest EP, KOTZ!, features tracks like the funky space rock of "For The Stars (Under A Roof)" and the frenetic piano game of the misleadingly-named "Acoustic Gesture #2." That's part of the charm of Kotz's music – nothing is usual or unoriginal about his work.
Kotz is endlessly experimenting with eclectic recordings and has dropped two LPs and two EPs in just the past couple of years.
Liz and the Lovelies – "What You're Told"
In the winter of 2013, Virginia native and singer/songwriter Liz Chidester set out by train for the big, windy city of Chicago. Soon after, she was making gains as a songwriter, guitarist and ukulele player, gaining recognition from outlets like NPR.
The following year, Chidester's new band Liz and the Lovelies debuted with the release of People Pumping Pedals and the intimate EP Otter Hill in 2015. Twice she has been featured on NPR for her music.
The band's newest release, Progress Into Simplicity, is an exploration of acoustic folk mixed with indie pop and electronic elements, drawing inspiration from musical influences like Regina Spektor, Norah Jones, Andrew Bird, Sufjan Stevens, and Father John Misty.
The lead single, "What You're Told," is a gypsy, waltzing-like acoustic number with fusions of mandolin, cello and percussions with a mystic accent throughout. Other band members include Alex Chidester (mandolin); Lewis Rawlinson (cello); Ivan Pyzow (trumpet, synth, keys); Mike Fletcher (bass) and Zach Finch (drums).
MP3: "What You're Told" – Liz and the Lovelies from Progress Into Simplicity
Liz and The Lovelies on Facebook
Quick Picks: New Indie Songs from DIY Bands Worldwide
Glasgow, Scotland: "Everything (Is You)" – Bobo and The Demeraras from Utopia Eurotica
Nashville, Tennessee: "South" – Zach Cannella from Jephthah
Stockholm, Sweden: "Great Expectations" – POKAL from Great Expectations
Astoria, New York: "Between The Lines" – Amber Lamps from Plaidypuss
Skelmersdale, England: "Two Apart" – Mosley Bar from Royalties
Cleveland, Ohio: "Say It Now" – The Shadow Division from The Shadow Division
Berlin, Germany: "Döda flickan rädda rösten" – Fagelle from Döda Flickan Rädda Rösten