It's been a while since the last installment of
7 Bands You've Gotta Hear
, which yielded a significant amount of interest, as did the first spin-off of the series, which focused on overseas bands. This second installment of the overseas edition marks the first '7' series posting in quite a while, and hopefully we've put together a collection of bands here that you'll enjoy and be glad you heard. The '7' series is all about artists and bands, usually DIY, sometimes signed, who sent their music in for review via the submission form (located on the
About page
).
So why 7? Well, it's a lucky number, and because 5 seems a bit too few (considering the number of standout submissions we receive) and 10 a bit too many for one post. And to boot, we like to do things differently. Most of the bands are DIY and have not been profiled anywhere online, let alone a site with more than a million page views a month. However, these bands are a little bit different in the fact that a few are popular overseas, but have yet to break out in the states.
7 Overseas Bands You've Gotta Hear
The Amsterdams – Bucharest, Romania
Unsigned indie pop quintet The Amsterdams are not based in the Netherlands, but rather the capital city of Bucharest, Romania. The five members of the band hail from different cities in Romania, and met at the University in Bucharest. The band has a loyal following throughout Europe, but would like to make a splash on America's shores. Why they haven't already is a bit of a mystery to us, as are many artists we feature every month – and often the only major indie site on the web that does. Good music needs to be heard.
The band's music is essentially indie pop and rock, but more recently, more experimental – clacking drum sticks, bass rumbles, exotic bird sounds, waves of synth notes, handclaps, sound effects, crashing cymbals, guitar licks, repetitive lyrics, and pitchy vocals. Since forming in 2006, they have opened for bands like Wolf Parade, Handsome Furs and Whitest Boy Alive, among others. The Amsterdams influences include artists such as Arcade Fire, Bon Iver, Modest Mouse, Franz Ferdinand, and Clap Your Hands Say Yeah.
Before launching into their newest single, "Sunology," give a spin to two other songs like we dig from the band (and which offers a snapshot of their musical evolution since 2009) – the first from the 2009 debut LP, Adolessons that contains, among other songs, the standout track, "Laika" and the second, the single, "A Part of It" from the 2011 sophomore release, Electromagnetica. In addition to the band's particularly impressive talents, you've got to give them credit for also having such a strong command of English (they sing in English, not Romanian) that they can come up with a creative play on words for a debut album title, Adolessons – which is silly to a degree, but thought-provoking and appropriate as well. In addition, we also included the music video (above) for the track, "Chased By Housewives."

"Laika" – The Amsterdams from Adolessons (2009)
"A Part of It" – The Amsterdams from Electromagnetica
Just a few months ago, The Amsterdams released a catchy new song that may be a sample from a new album set to drop in 2013. The new single, "Sunology," is a great track to warm you up and combat the winter dreariness, cold and darkness, and probably one of the best rarely heard songs of 2012 (more 'rarely heard' in coming weeks). In September, the band was the first band to perform during the premiere of Romania's MTV Unplugged.
"Sunology" – The Amsterdams from Sunology single – July 19th
The Mouth of Ghosts – London, England
If you're a Bjork fan, you might dig this latest single from the London band, The Mouth of Ghosts. The self-proclaimed indie/alt/trip-hop quintet got together last year. Their debut single, "When The Sun Sets," reveals the bands' sexy alt-rock textures and layers of atmosphere and intrigue.
The band prides itself on a unique creation – a fusion of alternative rock and trip-hop, with lashings of atmospherics and an underlying tension. Last year, founding band members Simon Langford and Marco Italia met vocalist Alla Seydalieva, matching her sensual vocals with haunting, ragged guitar melodies and moody bass thumping. Soon after, drummer Phil Page joined the band, followed by Valerie Deniz (vocals, synth) earlier this year to complete the outfit. This past August, the band signed with the small indie label, Red Dragon Records. The single 'When The Sun Sets' was released on October 29th 2012 (with "Close" as a B-side), and has already received support from BBC Radio 6 as well as numerous other stations throughout the U.K.
"When The Sun Sets" – The Mouth Of Ghosts from When The Sun Sets – Oct. 29th

The Mouth of Ghosts Official Website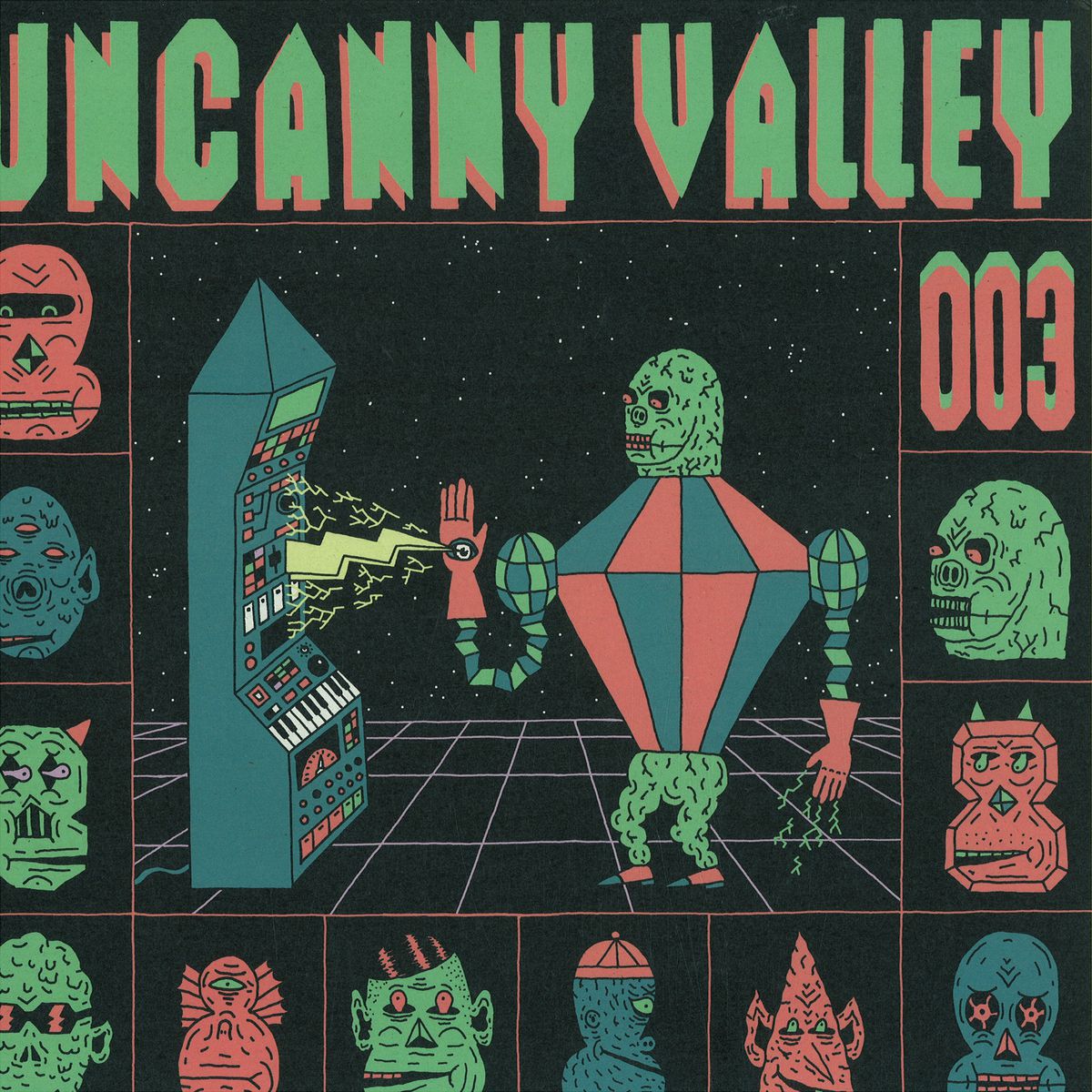 The Uncanny Valley – Manchester, England
A three-piece DIY alternative rock band from Manchester, England, The Uncanny Valley formed earlier this year, and not long after, were chosen to open for the popular indie rock band Jeff The Brotherhood. That is a clear signal for any band that things are off to a good start. There are bands that have been working their arses off for years to get a supporting gig like that. The Uncanny Valley caught on so quickly in Manchester that they've been getting airplay throughout the U.K. recently. Based on the two songs they sent us not long ago, we can see (well, hear) why.
Guitarist Nathan Day tells IRC that the formation of the band was actually an elaborate "trick" that turned out to be a good move by all involved, unwittingly or not. "I self released music online under the pseudonym 'The Uncanny Valley,' which due to the beauty of the Internet, quickly attracted attention from two fellow college students and cleaners who I then semi-tricked into starting the band with. They asked if they could be session musicians for my music so I agreed with the intention of quickly persuading them to make it a full on band which happened pretty much straight away."
Day describes the band's sound as "dark and eerie rock and roll with punchy overtones." He said the band's top musical influences include Jeff The Brotherhood, The Dresden Dolls, Jeff Buckley, John Frusciante, and Nicky Wire.
"Pandemonium" – The Uncanny Valley from demo – Aug. 14th

"Swallow Soil" – The Uncanny Valley from demo
Finnish Band Mojo Waves on American Shores
Mojo Waves is a rock trio from Helsinki, Finland, formed in late 2011 to pursue creating "the attitude and the spirit of what rock music used to be in the past." It's unpredictable, personal and energetic. Although influenced by vast amount of bands, their sound is unique, and impossible to categorize. Whether intentionally or not, there are songs like "Yeasayer" that sound like they were produced with a page torn from the musical textbook of Jack White – raunchy, raw, lightning-stricken garage rock grit hammered out with a menacing intensity.
Although the band has commented that they feel a "spiritual connection with the rock music of the past," you do not get the sense that they simply lift sounds and styles as much as they creatively infuse them into their tracks. According to the band, the main goal of the band is to make their own personal songs that they can be proud of, and to perform as many gigs as possible.
"Live music is what music has always been about," band member Mikko Matikka told IRC, "and that's what the band loves most." For a band that only formed a little more than a year ago, Mojo Waves show a lot of promise, and are easily a band to watch in 2013, as are every band featured in this series. Although they have not opened for another band that we know of , Mojo Waves count among their biggest musical influences artists like MC5, Truckfighters, Fu Manchu, and Brant Bjork. But it's hard to believe those artists are the band's only influences. Either way, this band rocks and are definitely an overseas band to watch in 2013.
"Yeasayer" – Mojo Waves from Enjoy, Don't Destroy EP – July 4th
"Whitebird" – Mojo Waves from Enjoy, Don't Destroy EP

Official Band Website: Mojo Waves on Tumblr
Thieves – Auckland, New Zealand
From Auckland, New Zealand, the DIY indie band Thieves released their self-recorded, produced and distributed second EP, Thieves 2, on August 18th. The talented young band, from the land of kiwis and the filming of Lord of the Rings and The Hobbit, belt out dark riffs and groovy rhythms, but their sound is a bit more complex than that. The band experiments with genres and sounds, and underneath the impressive noise is the revelation of some terrific songwriting. There are influences of indie rock, power pop, krautrock, post punk, all infused with defiant, yet well-crafted, harmonies, hooks, melodies and top-rate vocals.
"The potent 'Microcosm' opens the album and transports us back to the mid 80s where serious looking men in black made seriously brooding music (a la Depeche Mode, Killing Joke, or Echo & The Bunnymen)," wrote Under The Radar.
"Microcosm" – Thieves from Thieves 2 EP – Aug. 18th
"Sudafed" – Thieves from Thieves 2 EP

Thieves on Bandcamp
Silicon Ballet – Brussels, Belgium
Following the release of the peculiar and ethereal EP, Utopia, the Belgium band, Silicon Ballet recently regrouped under the direction of Gareth Parton (Go! Team, The Breeders), to record an EP of new material. The first single is the title track from a forth-coming EP. The song, "Slowly, Slowly" is a dreamy, mellow 'slow pop' track that reminded us immediately of The Clientele.
The Slowly Slowly EP has yet to fully emerge from behind the shroud of mystery that appears to surround Silicon Ballet, but it's fair to assume that if the rest of the EP is along the lines of the fine work of the title track, the EP should be rather special – "albeit," the band told IRC, "hampered by delays in mixing, mastering, postal issues, etc. – metaphorically speaking, the view was well worth the climb."
"'Slowly, Slowly' is embued with a gentle, elegance that says everything it needs to without raising its voice above a considered whisper…the regular plod of automata set against the organic ebb and flow of strings is a far cry from the chaotic Wilsonisms of [the] previous single 'Sunglasses,' or the spooked, nightmarish hubbub of Utopia, but an altogether stunning and welcome counterpoint to the pandemonium on the other side of the imaginary force field the song creates."
Last February, the band released their debut five-track EP, Utopia, which includes a couple of standout tracks like "Victory" and "Sunglasses."
"Slowly Slowly" – Silicon Ballet from Slowly Slowly single – Nov. 19th
Did you enjoy these bands? Let us know via the Comments box below, or via Twitter (@IndieRockCafe) and Facebook. There are many more great bands you probably never heard of before in the pipeline to be published in coming weeks and months, and plenty to explore and listen to via the archives. There are many entry points to archived posts and special playlists – via the frontpage categories, the tag cloud, the search box, the month-to-month drop-down menu in the right column – definitely no shortage of entry points to find more great music and bands.
Literally, you could spend half a year listening, reading and downloading songs from IRC and still not get to half of the artists and bands we've featured over the years – many who are under the radar – or another way of saying under-rated and under-appreciated, yet have put out some of the best music in the past five years since we started out as a place to share music with friends (never realizing it would blow up into the popularity IRC has today). We do this to share music with as many people as possible, as well as to provide an outlet for talented artists and bands that often get lost in the crowded field of bands trying to get a little love for their blood, sweat and tears.   That's why we do this. If you've been a long-time follower of IRC, you know what we're talking about.