Winter is a drag for most people – less daylight, cold, snow, ice, rain, sleet, higher electric and gas bills, and depending on where you live, freezing temperatures that keep millions of people confided to their homes. Oh yeah, and transportation. Big storms like the one that hit the east coast the day after Christmas crippled major cities like New York, and in many other regions from the southern and the mid-Atlantic states, all the way up to northern New England and Canada. Under a foot or more snow, many streets in the nation's largest city were impassible for days, and it caused all kinds of problems and outrage from the city's news press and residents.
Tens of thousands of travelers were stranded in airports all along the east coast the day after Christmas, as the storm moved up the coastline from the south and mid-Atlantic, dropping large amounts of snow in white-out conditions from Philadelphia and Newark to Boston and Bangor. The day before, in southern states like Georgia and Florida, people accustomed to balmy winter temperatures suffered through days, and particularly nights, of freezing temperatures, in some areas breaking 100-year-old record lows. Atlanta, Georgia had a white Christmas.
"The Winter Stories" – World Atlas from World Atlas (2010)
On the west coast, from Seattle and Portland, to San Francisco and Los Angeles, a line-up of gigantic, powerful storms kept coming westward off the Pacific Ocean, like a conveyor belt of rain systems, for an entireweek, causing widespread flooding, mudslides, power outages and downed trees. At the higher elevations of the state, like the Sierra-Nevadas, three feet and more of fresh powder had fallen – hazardous conditions for drivers, but fantastic conditions for ski slopes. Plus, the mid-west and Canada got hit too as the video below shows.
A video collage of great photos taken in and around NYC during and after the Blizzard of 2010 basically shut down "the city that never sleeps." Instead of the song used in the video, Frank Sinatra's "New York", we opted for Bruce Springsteen's "10th Avenue Freeze Out." Just put the video audio on mute and click the song below at the same time you start the video. Or do the same with one of the 24 awesome indie winter related songs below.
"Tenth Avenue Freeze Out" – Bruce Springsteen and The E Street Band from Born to Run (1975)
There's no question that the second half of December was one of the most eventful for storms across the nation. And there's still something like 10 weeks of winter to go. But the trend is definitely heading in the right direction: the number of daylight hours are now getting longer than shorter, we're in the second week of January, Christmas time has past and college students are starting to make plans for spring break.
"A Cold Wind Is Gonna Blow Through Your Door" – Bill Ricchini from Tonight I Burn Brightly (2009)
More Theme-Based Playlists on IRC in 2011
With winter a reality, might as well make the best of it. With music as a coping mechanism. Therefore, this week's Sunday 25 Songs Mix (or the 'S-25 mix') has a slight alteration to its regular format. Instead of featuring 25 random, but amazing, songs that we love from all eras and genres of music, we're taking a thematic approach to this week's S-25 Mix. And being that the winter weather has been such a huge theme in almost every part of the country in recent weeks, it only made sense to make the first S-25 thematic playlist about winter.
So we collected a bunch of relevant songs, and whittled the list down to these 25 awesome songs. Chosen first for quality, each song is either directly or indirectly related to winter, or can be reasonably construed as 'fitting' for a winter themed playlist.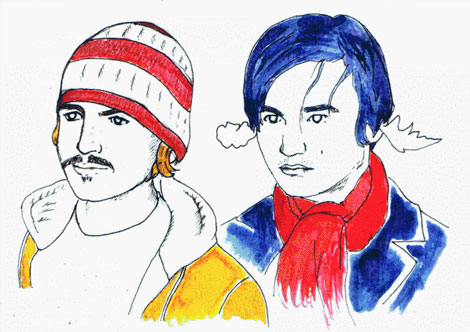 "Winter" – The Dodos from Visiter (2008)
We're going to do more theme-based playlists in 2011 because there was such a huge and positive response to theme-based playlist mixes that we put together and published throughout 2010, including weekly posts like Best New Releases and Top Ten Songs, plus, very popular playlists (that are still available now) like: Summer Songs Mixes, In Dee Mail, Almost Missed Releases, What's Hot Right Now, and many others. Just explore the site's different sections, search for music with the search engine, stream playlists of great songs for songs uninterrupted while you do other things. Plus, we love sharing great music with people, and creating theme-based playlists are one of our (and from the statistics, yours too) favorites to put together and listen to again and again.
There are many interesting, awesome playlists and mixes of great songs in the pipeline, and will be all throughout 2011. If you are so busy (and vast majority of you are) that you need to pick just one site to find about new bands and get new songs, we'd love if you picked us; because we can promise we'll be on top of it all year. 2011 is already looking to be another great year for indie, alternative, or whatever you want to call it, music.
Also with this week's S-25, we are not including a band profile. We hope you enjoy the songs in this mix more than the idea itself; because when it comes right down to it, the point is if the music is good, even great. Plus, you can stream the entire playlist uninterrupted from top to bottom just by clicking on the first song, and then save your favorites to your computer or MP3 player.
Click Album Titles to Purchase
Additionally, you can purchase all album from the artists and bands in this playlist simply by clicking the album title. This will open a new window to the Amazon page for that album. We get a very small referral fee for each album sold (it's chump change, but helps off-set some costs of servers). Nevertheless, we've found that people like being able to click the album title to purchase, and download, the album in a matter of a couple of minutes. So, as much as possible, we're making it a regular feature on IRC.  In fact, over the next few weeks, we're going to have huge playlist mixes of the best music of 2010, best rarely heard songs of 2010, best debut albums, best new bands, and plenty of great new music for 2011. We hope you will take part in all of the different polls and participate in the IRC Readers' Choice Awards posts currently running (like the Best No. 1 of 2010 poll) on the site.
"Mrs. Cold" – Kings of Convenience from Declaration of Dependence (2009)
We hope this playlist introduces you to some great 'new' songs that you have never heard of before, and perhaps reminders of songs you had forgotten, as well as others that you've always been fond of.  Oh, by the way, we are not including any Christmas songs in this mix, because as some of you know, we already have the largest indie rock Christmas songs collection on the web.
"In This Home on Ice" – Clap Your Hands Say Yeah from Clap Your Hands Say Yeah (2005)
"White Winter Hymnal" – Fleet Foxes from Fleet Foxes (2008)
"Deep Frieze" – Chris Letcher from Deep Frieze (2007)
"Breaking The Ice" – Mojave 3 from Breaking The Ice (2006)
"Winter Wooskie" – Belle and Sebastian from Push Barman to Open Old Wounds (2005)
"Winter" – The Rolling Stones from Goats Head Soup (1972)
"Angel In The Snow" – Elliot Smith from New Moon (2007)
"Ice Skating At Night" – The Ocean Blue from Beneath Rhythm and Sound (2005)
"Winter's Love" – Animal Collective from Sung Tongs (2007)
"Cold As Ice" – Atlas Sound from Let The Blind Lead Those You Can See But Cannot Feel (2008)
"Winterlight" – Roman Candle from The Wee Hours Revue (2009)
"The Cold, The Dark & The Silence" – Seawolf from Leaves in the River (2008)
"Winter" – The Fireflies from Butterscotch EP (2009)
"The Cold Part" – Modest Mouse from The Moon & Antarctica (2004)
"Sister Winter" – Sufjan Stevens from Songs for Christmas (2006)
"Wait For The Wintertime" – Yeasayer from All Hour Cymbals (2007)
"A Jagged Gorgeous Winter" – The Main Drag from Yours As Fast as Mine
"The Price of Winter" – The Amazing Pilots from South by Southwest (2005)
"Winter Windows" – Sea Wolf from Leaves in the River (2008)
"Winter Song" – The Fairways from Permanent Vacation (2000)
"Listen to the Snow Falling" (Yoko Ono) – Thea Gilmore from Listen to the Snow Falling (2010)
Finally, we should let you know that we have a few dozen more good to fantastic winter themed tracks that we'll probably publish to our new 'quickies blog' we're experimenting with at IRC's relatively new Indie Quickies Blog. So far, although there is still work to do, the 'quickies' blog seems to be something that people are enjoying as a supplement to the main Indie Rock Cafe site (which you're on right now).  We'd love to hear your Comments, so please take a moment after listening to the playlist and let us know your favorite songs from it, or even ones that we should have included, as long as the song title can reasonably be considered to have an association with wintertime.