Fresh New Indie Tracks from Molino, TWOTN, The Flusters, Para Lia, Mikey Mike, Le Corbeau
The December indie rock edition of Fresh Indie Tracks is a special treat with standout singles from a wide cross-section of bands with their own unique attitudes, personas and genre-mixing.
These are some very interesting, under-the-radar tracks and artists we think you'll dig – especially the more you listen to the tracks.
Molino – Amsterdam, The Netherlands
The Women of the Night – Brooklyn, New York
The Flusters – Palm Desert, California
Mikey Mike – Hollywood, California
Para Lia – Cottbus, Germany
Le Corbeau – Oslo, Norway
Fornis – Sacramento, California
Tapes and Tubes – Philadelphia, Pennsylvania
---
---
Molino – "Rorschach Test"
Amsterdam indie dysto-pop band Molino mixes rock, electronic and avant-garde genres on the band's new EP, Dodgy Dealings.
Standout singles like the incredible track, "Rorschach Test," starts out an opening swing-like tempo, but then breaks into a full jazzy indie rock song – complete with orchestra instruments like the Frech horn.
It is a jangly, bright, sing-a-long track, very much experimental and it works. Perhaps hard to pin down exactly, Molino states that their sound is "experimental dysto-pop with a dark, surreal touch."
As the band says, and we agree, the "reconfigured usage of this uncommon genre-mix draws out the musical tensions between structure and improvisation."
---
The Women of the Night – "Moscow Mansions"
With something reminiscent of Jagger's swagger (and a bit resemblance in voice and elocution), Brooklyn 'decadent sleaze band' The Women of the Night, breaks out on the latest standout single, "Moscow Mansions." This is one of the best DIY tracks we've heard this month.
TWOTN are a proto punk/glam pop band from the streets of New York by way of Adelaide and Seoul. There sound, as experienced on "Moscow Mansions," is influenced by the band members' favorite artists – The Birthday Party, Velvet Underground and Modern Lovers.
This is the first single from the band's forth coming EP. They have opened for bands like Genesis P-Orridge, Santoros, and Pearl Earl.
---
The Flusters – "Time Traveler"
California indie rock band The Flusters have accomplished something that few DIY bands can tout. They were named the Best Local Band by the Coachella Valley Independent newspaper in 2015, only a few months after the band's formation.
The CVI is the local newspaper of the famous Coachella Valley where the world-famous music festival is held each year.
After fests, tours and building a following, The Flusters dropped the single and accompanying video for the song "Everyday Dreaming" from the album Extended Play No. 2.
Now the band is back with a pair of singles, like the soaring melodies, unique instrumentations and sound effects of the dreamy "Time Traveler" and The Smiths meets Vampire Weekend-sounding, "Little Mexico."
"Going into the studio, if someone told us that 'Time Traveler' would feature a vocoder sequence and an orchestral outro, we wouldn't have believed them," says band vocalist Dougie VanSan.
"It's almost like it grew and took shape all on its own. Despite the track being about underwhelming conclusions, we are very pleased with the outcome of this four-minute, sci-fi mini-drama."
The band members cited a range of great artists like Roy Orbison, Dick Dale, The Beach Boys, The Pixies, and The Smiths as major influences.
Combining vintage guitars (oh yeah!) and more modern pop-rock elements, which the band calls 'dream surf,' the washy, hazy sounds, reverb, and driven in part by romantic ballads, one can see why The Flusters have risen so high so fast.
Last year, the Independent readers again voted The Flusters as the best local band and performed at Coachella and the Echo Park Rising Fest in LA.
---
Mikey Mike – "Strange Times"
California DIY artist and musician Mikey Mike (we don't know his real name) is an unusual dude, to say the least. He has drawn fans with his own brand of what we guess you could call folk-inspired experimental hip-hop, a combo we can't remember coming across before.
His latest single, "Strange Times," features acoustic guitars, harmonica, a bass drum and a haunting, soaring chorus – all elements that you don't usually hear mixed with hip-hop vocal representations.
Only a native boy of the real (that's ironic) Hollywood could come up with such a moniker, and so far, it seems to have served him well, amassing a fair deal of followers online.
He describes his music as his "own way of turning the often ridiculous realities of modern human life into pure poetry backed by unusual, catchy melodies."
With creative influences ranging from Kurt Cobain to 50 Cent, and Fleetwood Mac to Yogananda, he claims to
only draw inspiration from revolutionaries."
In the past couple of years, he has launched a silly, but clever (if you will) campaign to find himself, using social image posts depicting his photo with the caption 'have you seen this man?' callouts.
---
Para Lia – "Wait"
The DIY outfit Para Lia is a newly launched indie/alternative rock project of German musician Rene Methner.
Based in the city of Cottbus, Methner weaves melodic guitars and analog synth-sounds along with creepy-like vocals on his debut single, "Wait." Reminds us a bit of Editors. The song has a repetitive beat and droning bass, angling, ringing guitars and a mood of impending doom.
The dark, intimate sounds and vocals – a hybrid of indie, alternative rock and darkwave – are apparently the signature of Para Lia. The single, along with others, have garnered him praise online, mostly via Soundcloud.
"I grew up listening to the indie and alternative rock music of the 1990's and was fascinated by the garage rock of the 1960's and the powerful performances of Neil Young and Crazy Horse," he writes.
Methner is a one-man band, writing and singing, and performing guitar, bass, mellotron, keys, and drum programming.
---
Le Corbeau – "Psycho At The Wheel"
The latest drop from Norweigan band Le Corbeau, titled VI Sun Creeps Up The Wall, is the last in a remarkable trilogy for the band.
Le Corbeau was founded, and is fronted, by professional Oslo musician Øystein Sandsdalen. Sandsdalen played guitar for nearly a decade in the band Serena Maneesh, one of the most successful indie shoegaze bands to come out of Norway in recent years.
The newest single from the third and final album is a menacing, chugging single, "Psycho At The Wheel," in line with their indie-noir style, according to Sandsdalen.
The band's cinematic approach combines the elements of art rock with influences like Sonic Youth and Pavement are evident while listening to the single and the album.
Following the release of the second part of the trilogy, Moth On The Headlight, in 2011, Le Corbeau was getting booked for bigger festivals in Norway and toured with popular indie bands like A Place to Bury Strangers.
"Although we call this a trilogy," says Sandsdalen, "it really is three individual records spanning the past seven to eight years of the band existence."
All three albums in the trilogy are all quite different in aesthetics and production, ranging from lo-fi-esque to the more hi-fi production of Sun Creeps Up The Wall.
---
Fornis – "He Gave You Good Advice"
Employing punk elements with sound effects, lo-fi and guitar rock, soccer-rally like choruses and plenty of grit, Sacramento band Fornis can stir up a crowd with their balls-to-the-wall style.
In September the band dropped their new album, Endless Night, featuring the standout track, "He Gave You Good Advice."
"Our style of music is commonly described by punks as rock and roll, and by metalheads as punk, as it is common for the band to play shows with various genres of bands," says frontman and guitarist Todd Pittman.
"My personal musical influences are old school punk rock, doo-wop and old rock and roll."
The band has recently opened for popular indie groups like Shonen Knife and thrash metal legends Trauma.
The bottom end and keyboard accentuation of Fornis is provided by keyboardist Keydragon and drummer Trapper Herzog, both vets of the Northern California music scene.
The band says about the album: it "starts with upbeat and jovial pop punk in Bobby Popadopolous then meandering through to darker songs."
---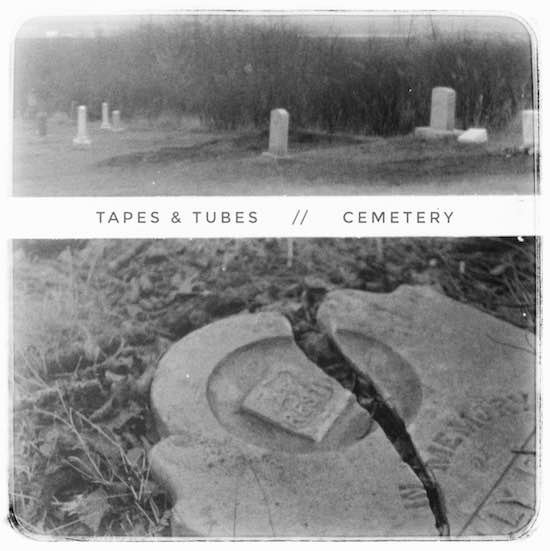 Tapes N Tubes – "Cemetary"
Long, sparse, even sometimes errie , dream-like compositions, marked by whispered poetry, are the elements that make up the musical MO of Philadelphia artist Austin Potter, aka, Tapes N Tubes.
We've been following him for years, even before he moved to Pennsylvania from the midwest, and in that time he has also built up a following of loyal fans who are helping to support his work.
In February, he released a three track EP, featuring the standout "Horse Trailer," and just a couple of weeks ago the spectacular track, "Cemetary," with angelic violins in the background of Tapes And Tubes' newest poem.
---
---
---
---