7 Overseas Bands You've Gotta Hear, Vol. VI – Gonçalo, Fake Vulgarys, Brockley Forest, Cat Dog Snake, Welcome The Wildfire
As a member of the alternative Portugese band Long Way To Alaska, Alvarez decided last year he wanted to record a solo album and adopted the moniker, Gonçalo. He sent us two gorgeous singles that were so compelling that we sought out more of his music.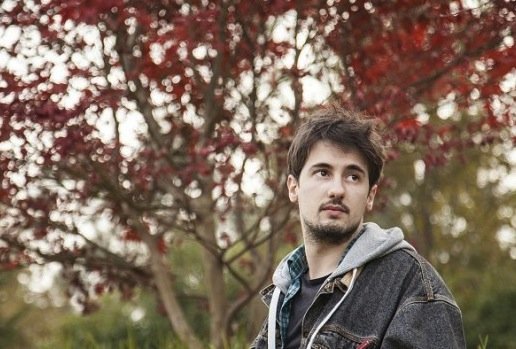 Back by popular demand, and because we have another collection of seven amazing artists and bands in this latest installment of
7 Overseas Bands You've Gotta Hear
takes us from
Sweden
and
Australia
to
England
and
Portugal
and
Brazil
.
In our last installment of the 7 Bands series, which was a hit with listeners, we featured artists and bands like The Bynars, Crash Island, Kid Cadaver and Sun Club.
In This Edition:
Gonçalo – Lisbon, Portugal
Brockley Forest – Bristol, England
Cat Dog Snake – Malmo, Sweden
John Alexander Ericson – Sweden
PFAU – Paris, France
Welcome The Wildfire – Perth, Australia
The Fake Vulgarys – São Paulo, Brazil
---
---
(Enable Flash to use the tiny player below)

Gonçalo – Portugal
We love rock, punk, classic metal, and other hard-hitting, fast, balls-to-the-wall music, whether it's classic Led Zeppelin, The Kinks, Cream, Black Sabbath, The Clash, Nirvana, and on and on, or modern day artists like The Black Keys, Jack White, Cage The Elephant, or whether it's under-the-radar small label and DIY rock bands.
But we also love beautiful, organic mellow music as well, from dreamy pop to touching folk ballads. In fact, we have thousands of terrific mellow songs in our personal music playlists collection (which we share pieces of sometimes when we need a break from reviewing submissions).
There are just times when the mellow greats, whether it's Sam Cooke, Iron and Wine, Marvin Gaye, Joni Mitchell or The Eagles, is all you want to listen to – and great for reading or working on something.
That's a bit of a long – but fitting – introduction for this newly formed solo project from Portugal musician Gonçalo Alvarez, on his solo path, far but always close to the warmth of his buddies that is now solidly on our radar.
As a member of the alternative Portugese band Long Way To Alaska, Alvarez decided last year he wanted to record a solo album and adopted the moniker, Gonçalo. He sent us two gorgeous singles that were so compelling that we sought out more of his music.
And yet that is one of the limitations, but also one of the hopes, that a talented artist with terrific debut album presents. The album, Quim, was dropped on February 3rd. With his main band, Long Way To Alaska, Alvarez has opened for big bands like The xx, El Guincho and The Fall.
"Criancas" – Gonçalo from Quim
Gonçalo's music stands out on its own because of the quality of his songwriting, singing and musicianship. You can tell Alvarez is a skilled artist with a rare ability to create and perform songs that touch the listener, and hopefully win them over as well.
We haven't been able to find much information about him, so there's a bit of a lack of insight as to who Alvarez is. Perhaps it's on purpose, and if so, it may not be such a bad strategy. Raise the mystique if you will.
---
Brockley Forest – Bristol, England
Sharing a bond similar to The Kills, and heavily influenced by many of the rock groups coming out of the underground scene in recent years, the Bristol indie rock duo, Brockley Forest, have been increasing their profile in the U.K.'s underground rock scene, and landed on our radar thanks to a couple of tracks they shared with us from the duo's forthcoming E.P.
Although the two men, who we only know so far as songwriter, guitarist and vocalist, Dec, and drummer and vocalist, Seb, (and assuming perhaps one of them is actually named Brockley Forest), have been friends since the age of 11, their friendship wasn't truly cemented until they embarked on a three- month cross-country trip in America, spanning 10,000 miles and culminating in two weeks in L.A where they ended up temporarily living in the Mojave desert, were adopted by a "hippie" commune (apparently in this decade), and hung out with celebrities at the Viper Room.
The duo got their first real big break musically after meeting two Australian millionaires who, Dec and Seb claim, "were out to blow their fortunes in Vegas." Wait, so we deduce from that limited information that the millionaires "blew" some of their money promoting Brockley Forest? Without that backing, the band may have never launched, nor opened for artists like Fidlar, Bob Log III, and Balthazar.
There's certainly more of a back story there than we're willing to dig into – and to save time for reviewing more submissions – but the band has definitely earned a good deal of their praise for natural talent and hard work.
In fact, their semi-hit underground single, "Run For Your Money," was featured in early February by BBC Introducing, a popular music series that profiles new bands, mostly in the U.K. The single is a tease for the band's debut EP, expected to drop sometime in the spring or early summer. We were able to secure a second single, "Destroy The Room," also from the forthcoming EP.
"Run For Your Money" – Brockley Forest from Brockley Forest
"Out Of Control" – Brockley Forest from Brockley Forest
See the "Out Of Control" music video
---
Cat Dog Snake – Malmo, Sweden
Straight outta Malmo, Sweden, the alternative rock band Cat Dog Snake, formed in 2012, got our attention with their riveting guitar riffs and American-sounding garage rock.
Ordinarily, we might have not even bothered with including the band because, as some, but few, other bands don't do, they did not provide us with much more than a couple of lazy sentences about who they are – making, at best, a minimal effort to provide any insight as to who they are, what motivates them, what their background is, or anything else that you would think a band would want people to know about them.
Afterall, they're certainly not at a level that anyone would ever say: "Oh, yeah, Cat Dog Snake? Everyone knows who they are."
This is a good lesson for aspiring artists and bands – when you send a submission to any press or bloggers, make it shine. At the very least, provide the information requested; a bio/profile doesn't need to be beautifully written with journalistic detail, but the person receiving the submission, along with hundreds of others, needs to know enough about who you are, your music, where you're from, what notice you've received, how you met, and other details to write something meaningful.
A band or an artist can never build and sustain a loyal following (which is what keeps most bands afloat for many years) without being engaged with their fans and followers – through live appearances, events, and one of musicians' best free tools – social media and the web. They've only posted a few times on Facebook so far this year and it's May. All the criticism aside, these guys can rock, as the singles from their self-titled, debut album clearly show.
---
John Alexander Ericson – Sweden
John Alexander Ericson's remarkable compilation Berlin Lullabies on Warsaw Recordings marks the culmination of a number of personal journeys, from his native Sweden via Berlin, London and back to Berlin again, where he now lives and works on his music, with a very personal blend of songwriting that draws on all these experiences.
Taking a distinctly European approach to his craft, which both recalls, and gives new perspective, to his musical influences such as P.J.Harvey, Jacques Brel and David Bowie and Brian Eno's collaborations, it's appropriate that Berlin is the central theme of the album.
In fact, Ericson wrote many of the songs during his stay in the Berlin, including standout tracks like "Black Clockworks" and "Cyanide." The cover art of his album is a photograph of the bar Oberbaum Eck in Kreuzberg.
"I wanted to take the best piano ballads I've written for solo albums and various other projects and put them out as one independent album," Ericson wrote. "You probably won't get up and dance to this one ('Black Clockworks'), but I'm very proud of this collection of songs and think it's some of the best work I've ever done."
Ericson is no stranger to the world of indie rock. In fact we've featured his band, My Empire of Sound (with collaborator Sidsel Marie), on the '7 Bands' series before, and listeners really liked the band's tracks.
In the later half of the last decade, he toured with his brother's band, the popular Alberta Cross, and performed more than 150 shows in the U.K., including the V and Reading festivals. He has previously opened for Bat For Lashes and Edison Woods, and considers among his top musical influences artists like Lou Reed, Fever Ray, David Bowie and Leonard Cohen.
"Black Clockworks" – John Alexander Ericson from Berlin Lullabies
"Midnight Warriors" – John Alexander Ericson from Berlin Lullabies
PFAU – Paris, France
Gregopfo (cannot track down his last name), aka, Cousin Machewbacca, is a lo-fi, folk pop guitarist, songwriter and vocalist from Paris, France, who plays in a number of bands – Wonderflu, Sluggish and now, PFAU. Last fall, PFAU dropped its self-titled solo debut via Influenza Records.
"I was already in two bands," Gregopfo wrote, "but I wanted people to hear my solo work, which is nothing too complicated or sophisticated, but it's honest and from the heart."
Although PFAU is considered a solo project, Gregopfo did have some help from other musicians in recording the songs, including 'Marco' (no last name provided) on drums; Raphael Zweifel on cello, and Antoine "Sulfateuse" Poncet mixed and mastered the songs.
Although we think the music is terrific, we hate the name; it means nothing, is impossible to remember or to say, and makes it very difficult to brand. In fact, we're a little surprised that the folks at Influenza Records did not demand a better name before signing on to release the EP.
However, as we mentioned, the music is great, so we can see why they overlooked the terrible name. In addition to the fact that it's an impressive debut, we're partly featuring Gregopfo's songs because he also is the lead vocalist in the French indie band, Wonderflu, which we have previously featured on IRC.
"Don't Trust" – PFAU from PFAU
"Fog" – PFAU from PFAU
---
Welcome The Wildfire – Perth, Australia
In the Land Down Under – or more exactly Perth, Australia – is a new indie rock band, Welcome The Wildfire, which aims to make exceptional music that dynamically fuses together "smooth and melodic with hard and heavy."
On the catchy, well-received single, "Making Mona Lisa," which saw regular rotation on Triple J Unearthed radio last fall, the band crafts memorable indie rock arrangements that stick in your head.
Earlier this year, the quartet recorded five tracks at Fat Pig Studios (which produced such quality acts Mandalay Victory and Saviour) to release their debut, Where I Ignite, dropped in January, and includes the two singles below.
The band features Joel Bradbury (vocals); Dwayne Scott (guitar); Chris Dyson (guitar); George Hadnett (bass) and Aaron Muller (drums). Welcome The Wildfire have opened for bands like Black Birds, HYTE, and Calm Collected, and count among their top musical influences Karnivool, Emarosa, Birds Of Tokyo, Dead Letter Circus, and Incubus.
"In The Street Light" – Welcome The Wildfire from Where I Ignite – Jan. 17th
"Curtains Closed" – Welcome The Wildfire from Where I Ignite
Bonus: "Making Mona Lisa" – Welcome The Wildfire from Making Mona Lisa 7″
Welcome The Wildfire on Facebook
The Fake Vulgarys – São Paulo, Brazil
The following double-shot is from a new alternative rock band from Itatiba, São Paulo, Brazil, the The Fake Vulgarys, which only formed less than a year ago and just released their debut EP in the U.S., A Man Who Says, which the band says pays homage to different influences from The Beatles to The Foo Fighters and from Oasis to Metallica. You can't get any more DIY than these guys.
The four band members, Rafael Amaral Cataldo (vocals, lead guitar, keyboards), Diego Machado (vocals, guitar, cello), Caio Guttner (bass) and Eduardo "Dú" (drums) built a home recording studio and wrote, recorded, tracked, mixed and mastered the EP themselves, putting in their own money, not to mention blood, sweat and tears.
The songs featured below confirm the band's proclamation that they enjoy experimenting with sounds and constructs to blaze a path for their own music, which is stirring up a bit of a buzz in the Sao Paulo underground rock scene. Will they get a following in the U.S.?
"In Any Life With Her" – The Fake Vulgarys from A Man Who Says
"A Man Who Says" – The Fake Vulgarys from A Man Who Says