There has already been dozens of great 2013 new albums released over the past six weeks, that you can read about, and listen to, or download, the lead track from by browsing the best albums of 2013 posts. This week's Best New Releases includes a collection of lead singles from new albums out this week from Foals, The Little Ones, Veronica Falls, The March Divide, Millionyoung, Pissed Jeans, The VirginMarys and others.
Foals Release Anticipated LP, Holy Fire
by Ed Biggs
It almost goes without saying that the Album of the Week honors goes to Holy Fire, the third album from one of our favorite bands in recent years, Foals. The quintet has progressed in many ways since their 2010 LP, Total Life Forever. The track, "Inhaler," released months ago, is a perfect microcosm of Holy Fire – bold, challenging, intelligent and yet utterly accessible.
Tracks like "Bad Habit," and the newest single, "My Number," are indicative of Foals' dynamic post-punk style, this time around mixed with the expansiveness of Joshua Tree-era U2.
Overall, the band's new album delivers a bigger, fuller sound, which one could attribute to their move to Warner Brothers – a move that some die-hard fans are not happy with, but only time will tell if the move was a wise one. Does signing to Warner mean Foals is no longer an 'indie' band?
Some say yes, others say no, and apparently, just from what we've been hearing and reading, many others don't care because the music is what really matters to them most, which is simply logical. So far, the praise of Holy Fire has been fairly universal. And yet lead vocalist Yannis Philippakis and the band, who are extremely ambitious and talented, are also modest about their success in recent years.
"My Number" – Foalsfrom Holy Fire on Warner Bros
Double-shot: "Inhaler" – Foalsfrom Holy Fire on Warner Bros
The Little Ones Finally Release Sophomore LP
The second best album of the week at IRC is The Little Ones' long-awaited sophomore LP, The Dawn Sang Along, which is packed with infectious, uptempo twee-pop songs like the bright, melodic lead single, "Forro," with its glistening guitars, sunny synthesizers, harmony-packed choruses and tropical rhythms. "Forro" is the kind of song that beckons the warmth of springtime, and reminds us that more of winter has passed at this point then is still to remain. It's a fantastic, upbeat song, and there are other great songs from the LP as well that you can listen to here.
"Forro" – The Little Ones from The Dawn Sang Along on Branches Recording Collective
Listen to "Forro," or all of The Dawn Sang Along on Spotify.
New Releases from Veronica Falls, The March Divide
Next up is the new single, "Teenage," from the London indie pop band Veronica Falls' sophomore album, Waiting for Something to Happen. The March Divide's lead single, "Jose Cuervo," is one of the more interesting drinking songs we've heard in a while set to nothing else but an acoustic guitar, harmonica and vocals (almost sounds a little like the Plain White T's – not sure if that's a good or bad thing?). Millionyoung kick out a smooth, tropical groove on the track "Lovin'," followed by the punk rocker, "Cathouse," by Subpop band Pissed Jeans.
"Teenage" – Veronica Falls from Waiting for Something to Happen on Slumberland Records
"Jose Cuervo" – The March Divide from Music for Film on Dead Letter Records
"Lovin'" – Millionyoung from Variable on Old Flame / Rix Records

"Cathouse" – Pissed Jeans from Honeys on Sub Pop
"Blue Gums Calling Me Back Home" (feat. Kelly Hogan) – Roger Knox from Stranger in My Land on Bloodshot Records
"I Wouldn't Let Me In If I Were You" – Aina Haina from Aina Haina EP on Badman Recording Co.

"Dressed To Kill" – The Virginmarys from King of Conflict on Wind Up Records
"Seer" – Fear of Men from Early Fragments on Kanine Records
"Shiver" – PVT from Homosapien on Felte
Hit Band Cultfever Drop New Single
Cultfever's debut album exploded onto the indie pop scene in 2012, earning praise from MTV Soundtracks, Stereogum, and The Guardian. Their unique sound and captivating live show won them hometown distinction as The Deli Magazine's #1 NYC Indie Pop band in 2012. Singles such as "Knewyouwell" and "Collector" propelled them into the CMJ Radio Top 200 charts. Plus, their song, "Strangenecks," made its prime time debut on MTV's hit series Awkward. The band are confirmed to play at this year's SXSW festival next month. Also, the band Powers That Be have dropped their self-titled debut this week, featuring the lead single, "Valencia."
"Animals" – Cultfever from Animals 7″ single
"Valencia" – Powers that Be from Powers That Be on Don't Be a Lout Music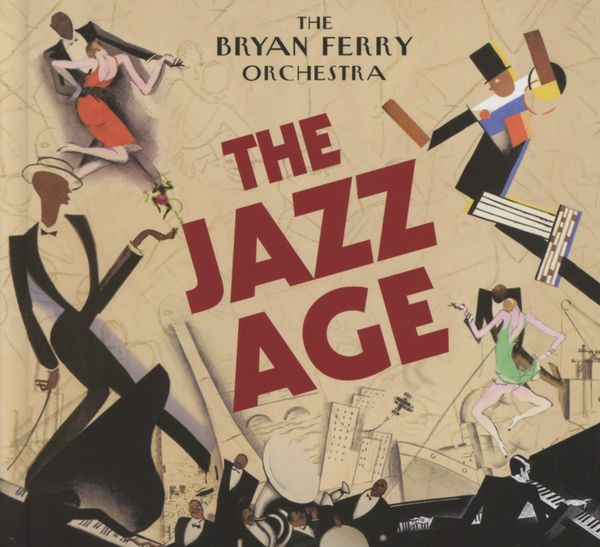 Bryan Ferry Releases 'The Jazz Age' to Critical Praise
We never want to limit ourselves to one type of music. As lovers of all kinds of music, we can appreciate almost any genre of music. But appreciating a genre of music doesn't mean that it's something you listen to regularly, or at all. In that case, there are probably millions of people that have never listened to an entire jazz album of any kind. Still, it is interesting that jazz has been more popular in past years with young people under the age of 35. Bryan Ferry, the legendary 70's band Roxy Music, has continued to write and record over the decades since Roxy Music disbanded.
Ferry's latest album, The Jazz Age, is the result of his life-long love for jazz music and his determination to record a jazz album featuring renditions of 13 songs from his extensive rock and roll discography through the prism of a jazz orchestra. The reviews, from The New York Times to Spin, have been overwhelmingly positive and generous in their praise for Ferry's overall production of The Jazz Age. The following is the official video for the composition, "This Island Earth," which also has lots of plays and up votes on Soundcloud, where the entire album is streaming.
"This Island Earth" – The Bryan Ferry Orchestra from The Jazz Age on BMG