This is one of the best week of new releases so far this year. If you're having a bad day, or week, this singles playlist from the Best New Releases of the week is a damn good antidote. This is only Part One of all the singles/albums we're reviewing for the week; Part Two will be out soon.
Still, this post is loaded with enough infectious and superb new singles from established to relatively new-on-the-scene indie artists that it should keep you busy for a while. And if you missed past Best New Releases, we encourage you to check them out.
Kicking things off is The Magnetic Fields' own song similar to The Kinks' classic hit, "Lola," complete with a witty, gender-bending love anthem, "Andrew In Drag."
How interesting is it that both songs – separated by 42 years – are about sexually ambiguous men who have an attraction to a man who is "a little bit of both," as a matter of speaking.
But The Kinks' – and with a band name like that – were way ahead of their time four decades ago, and caused controversy, no question about it. Radio stations refused to play "Lola" in the U.S., even though it was a Top 10 single here in the States and a No. 1 (or Top of the Pops, as they say) in the U.K.
The Magnetic Fields definitely take the Lola baton to the next level, since they can be more direct nowadays, and a step beyond Aerosmith's "Dude Looks Like A Lady" and other similar she-man songs since the days of Lola. However, the exploits of men with other men of varying degrees of feminimity is something that goes back to ancient times in texts and art.
It was completely coincidental – other than it being another great single – that Andrew Bird's wonderful 60's pop style single, "Eyeoneye," turned out as the follow-up track to "Andrew In Drag."
"Andrew In Drag" – The Magnetic Fields from Love at the Bottom of the Sea via Merge Records
"Eyeoneye" – Andrew Bird from Break It Yourself via Mom + Pop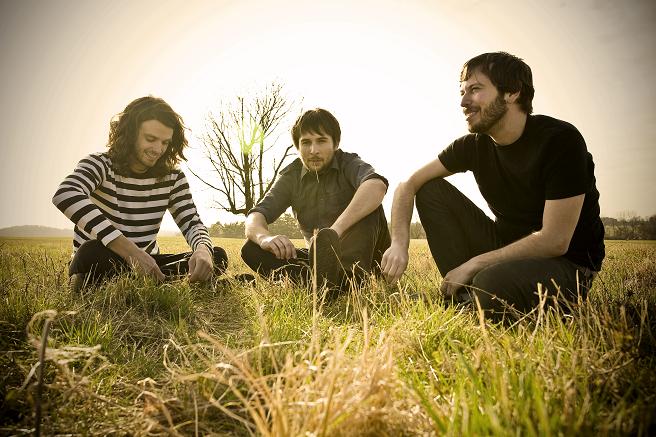 Good Old War, Said The Whale and White Rabbits' Terrific New Singles
Continuing on, we're loving on Philly band Good Old War's stand out new single, "Calling Me Names," followed by Said The Whale indie rockers superb track, "Heavy Ceilings," complete with a very "My Sharona" main riff-off.
Next, Brooklyn-via-Missouri's consistently good indie rock/post punk revival band White Rabbits reset the mood with the blazing, Jack White-like ripping guitar rocker, "Temporary."
"Calling Me Names" – Good Old War from Come Back As Rain via Sargent House
"Heavy Ceiling" – Said the Whale from Little Mountain via Hidden Pony
"Temporary" – White Rabbits from Milk Famous via TBD Records
Bowerbirds, Miniature Tigers, Yellow Ostrich and newbies Uncle Roman's Jetboat
Interestingly, the Bowerbirds' latest single, "Tuck The Darkness In," is not dark, but does have kind of a melancholy sunniness to it. In fact, it sounds a lot like Andrew Bird in some ways. Now, we start to get into some of the lesser known bands and artists to many people, and others to ourselves. We're happy to have the fresh single from Brooklyn band Yellow Ostrich.
"Tuck the Darkness In" – Bowerbirds from The Clearing (+Digital Booklet) via Dead Oceans
"Marathon Runner" – Yellow Ostrich from Strange Land via Barsuk
Miniature Tigers is a band we locked in on back in 2010, especially with the release of their album, Fortress, which contained the single,"Gold Skull," produced by Neon Indian.  This week, Miniature Tigers, released their new album,  and from what we've heard so far, it's a solid record. We've got the first single from the LP, "Female Doctors," which is a mix between indie rock and dance pop, with an underlying Prince influence running throughout.
"Female Doctor" – Miniature Tigers from Mia Pharaoh via Modern Art
Following Miniature Tigers is a note-worthy new track from a band new to us, Uncle Roman's Jetboat. Created from the remains of bands like The Kindness Kind from Seattle, and fronted by British singer Thomas Beecham, URJ dropped their debut EP, Floodlights In The Sunlight, this week to fairly wide coverage on indie blogs, not so much though on sites like Stereogum and SPIN.
The album is a mix of disparate influences comprising psychedelic/alternative rock, tango, raggae, indie pop and others. The title track below is easily the best new single from a debut out this week. Keep your eyes and ears open for more from Uncle Roman's Jetboat soon.
"Floodlights in the Sunlight" – Uncle Roman's Jetboat from Floodlights in the Sunlight via Don't Be a Lout Music
Jack Wilson's Debut; New-To-Us Artist Eric Chenaux
Don't be surprised if you find yourself listening again and again to this mix of new singles – we're on like our seventh or eighth time already. The next track, "Valhalla," from new-to-us Austin folk-pop songwriter Jack Wilson, changes the mood a bit with a kind of alt. country mixed with folkish type of melancholy. The track is from our second favorite debut of the week – Jack Wilson via Fluff & Gravy Records. Yet another artist we were not previously familiar with, Eric Chenaux, delivers one of the surprise tracks of the week with the single, "Amazing Backgrounds."
"Valhalla" – Jack Wilson from Jack Wilson via Fluff & Gravy Records
"Amazing Backgrounds" – Eric Chenaux from Guitar & Voice via Constellation Records