As we disclosed earlier this year, we got behind on the
In Dee Music
series for one simple reason – the number of submissions coming in has nearly tripled in the past 16 months, which almost perfectly coincides with the rise in overall monthly visitors during the same time period. IRC is receiving up to 400 submissions a month, and we're backlogged.
So, here we are playing catch up, and for very good reasons. We have received a practical treasure chest of good to absolutely fantastic music to share with you from bands and artists most of you have never heard of before. Although it is tempting to just bite the bullet and scrap the backlog, that would be a disservice to our readers, the artists who sent in their music, and ultimately, to ourselves. The music that is coming in dee mail is, again, simply that good, and we think that not to share it would be just wrong all around.
Rather than using the rather non-descript, but 'creative' post title, In Dee Mail, we decided to make it more luring by creating a title that creates an immediate connection to readers, listeners and visitors. If you love hearing new music from talented artists you are unfamiliar with, we think we have a treat just for you today.
In this special edition of In Dee Mail – 7 Bands You Should Hear – we've put together profiles with music of seven bands that stood out for one reason or another among hundreds of music submissions. To some degree, some of these bands, perhaps all of them, could be Bands to Watch, but we want to make the distinction that they are known to us only because they sent us their music.
The Golden Dogs – Toronto, Canada
Rec Centre – Vancouver, Canada
Smoke and Feathers – Austin, Texas
The Wind – Long Beach, California
Boogie Monster – Vancouver, Canada
Me And Joan Collins – Cambridge, Massachusetts
El Santo Nada – Pescara, Italy
The Golden Dogs – Toronto, Canada
Toronto indie pop band, and Nevado recording artist, The Golden Dogs, caught our attention right away after sending in these two terrific singles – "Cheap Umbrellas," followed by a second single, "Darkroom." Both songs are off their most recent album Coat of Arms and were sent to IRC unsolicited.
It wasn't much of a surprise when we found out that The Golden Dogs have opened for an impressive list of bands, to say the least, including Feist, Sloan Zeus, Bloc Party, Razorlight, Thurston Moore, Roky Erikson, and The Libertines. You know how many bands out there would kill to open for just one of those big-hitters? Thousands.
The band have been praised in The New York Times, Q Magazine, various Toronto weeklies and a number of blogs like Pop Matters. But, they haven't really "broken out" yet in the U.S. in the big way that they deserve to. So, we're going to do our best to help that along.
The Golden Dogs' musical influences range from alternative and indie rock – Radiohead, Ween, Wilco, New Pornographers – to classic rock giants like The Beatles, The Kinks and Neil Young.
We're really interested to hear if you knew of The Golden Dogs before, or if this is your first time, what you think.  Oddly, the band has been around for 10 years – a bit surprised they're not well-known. First up, is the Spoon-sounding rocker, "Darkroom," a song that we've played over and over again in recent weeks. And, of course, the fascinating tack, "Cheap Umbrellas," helps make the case further as this being a band to watch in 2011 and beyond.
In Their Own Words: "We have a great live band made up of our dearest friends who are insanely talented musicians and incredibly impressive to watch. We're sort of known in Canada for our wild live performances."
Rec Centre –  Vancouver, Canada
Rec Centre is the moniker of Eh Jay, a 'bedroom musician' from Vancouver. We're opting to let Jay tell the story of Rec Centre himself: "I had been playing folk music in my bedroom for years, and got tired of writing cutesy acoustic music that sounded nothing like the music I listened to. So I start programming electronic beats, ditched my acoustic guitar for an electric, and used a vintage Casiotone that my friend found in a Salvation Army.
"I recorded on my computer and made everything loud. I was aiming to make a C-86-sounding indie pop record, but I think the results probably sound closer to '90s slacker rock. I've been working with a keyboardist and a drummer to turn Rec Centre into a real band, but up until now it's just been a solo project." Long Weekend! is a free EP, and Eh Jay is apparently working on new material now.
Rec Centre include among musical influences of The Velvet Underground, Jesus and Mary Chain, the Pains of Being Pure at Heart, early Weezer, Apollo Ghosts, Little Girls, Black Tambourine, the Cure, and Pavement.
Smoke and Feathers – Austin, Texas
Austin based psychedelic rock/southern indie rock band Smoke and Feathers sent in a couple of very good tracks from their recent self-titled, debut album. We were floored. This band rocks! Sorry for the cliche, but it's so applicable, both in the actual music itself, and in the way to describe the band to others.
Therefore, it's no surprise that Smoke and Feathers are gaining ground in the local Austin alternative rock scene, which says much when you consider that great bands are a dime a dozen in one of the musical capitals of the world. So, to standout in Austin, is a huge deal for any band.
And it brings along with it many opportunities. Aside from the annual SXSW music fest, and Austin City Limits, not to mention an array of other music festival and events in the city, rising bands in Austin often get a chance to open for some well-known, international artists. Smoke and Feathers have ceased those opportunities, opening for bands like The Black Angels, The Whigs, Sleepy Sun, Dead Meadow, Alberta Cross, Indian Jewelry, and The Entrance Band.
In Their Own Words: "Smoke and Feathers takes you carelessly away on heavy guitar rifts to a place in your psyche, where the angel and devil inside argue; soulful human drama, eerie, compelling wizardy, desire, temptation – nothing close to innocent, but perfectly and beautifully balanced contradictions."
On "Blue Skies," we dig the lo-fi guitar punk sound that's going on, and on "Wicked Ways," the track has an appropriately southern rock style with a bit of swagger and some definite Led Zeppelin influences. We recommend Smoke and Feathers if you like bands such as Cage The Elephant, Wolfmother, and Them Crooked Vultures.
"Blue Skies" – Smoke and Feathers from Smoke and Feathers
"Wicked Ways" – Smoke and Feathers from Smoke and Feathers
The Wind – Long Beach, California
What is this? Another promising DIY band that almost no one has ever heard of? Yes, it does look that way. And it's no surprise that they, who call themselves The Wind, are based by the oceanside in Long Beach, California. It's also fitting that their most promising single, "Hathor," sounds like a spring or summer time song.
The second track, "Monsters," isn't as menacing as the title suggests; instead it's a kind of day-dreamy type of mellowed out track flushed with globs of Beach Boys-style harmonies, and interludes of background voices and slow-hand mini-guitar solos. The Wind have opened for awesome bands like Delta Spirit, Local Natives, Dawes, and Cold War Kids and include among their major influences – and not surprisingly –   The Beatles, The Beach Boys, The Band, Grizzly Bear, Radiohead, Danny Elfman, The Kinks, and Cat Stevens. Their debut double CD, Harum Scarum, was released in November of 2010.
"Hathor" – The Wind from Harum-Scarum
"Monsters" – The Wind from Harum-Scarum
Boogie Monster – Vancouver, Canada
Calling all head bangers and noise rock lovers; the Boogie Monster is real, frantic and loud. At least in Vancouver. Woven in between the searing guitar riffs, floor-thumping bass, dynamo drum explosions and lack of vocals (instrumental only band), there are tiny hints of classical music that jump out as if from behind corners and trees as the song plows forward through your mind and body.
From the first few seconds of "Lost in Bollywood," Boogie Monster comes at you with an all-out blitz and barrage of metal, rock and experimental sounds that are heavily charged, aggressive and immensely noisy – great stuff; let it rip. We also are including, "Castle In The Clouds," a more tamed outburst, and like all of the band's songs, completely instrumental.
Like bands such as The White Stripes, The Raveonettes and Japandroids, this Canadian duo consists of just a guitarist, Ben Fussel, and drummer, Tony Dallas (of the SSRI's, Supercassete and "at least five other bands"). The duo tear out tornado riffs inspired by many disparate artists (At The Drive In, Rage Against The Machine, Lightning Bolt) and many different styles (from "metalic bhangra" to "proggy celtic jigs").
Me and Joan Collins – Cambridge, Massachusetts
This Cambridge, Massachusettes band does get some attention with its alluring name – Me and Joan Collins. But gimmickry is not the measure of a good band (although some have done well at it, and not much else, for whatever reasons). Full of 60's-pop-by-way-of-80's-college-rock hooks, Me and Joan Collins exhibit a love for prickly post-punk, glam rock riffing, and shoegazing grandeur, and have been compared to groups likes Spoon, Pulp and Of Montreal. And on top of all of that, we have yet another boy/girl rock duo.
As evidenced by the first single here, "Crime of the Century," the band has a quirky rocking attitude reminiscent in a way to the B-52s or Southern Culture on the Skids. And yet the song is addictive, in a kind of half-cool, half-geek way; it's hard to explain (obviously – lol). The second track also has a gimmick-like aspect to it, but also does well in standing on its own merits. Every teenager can probably relate to any song with the title, "(I Masturbate) A Little Too Much."
Me and Joan Collins has opened for The Cliks and Bettie Serveert, and include among their influences Bowie, T. Rex, Velvet Underground, Phil Spector, Blondie, Pulp, Spoon and the Zombies.
"Crime of the Century" – Me and Joan Collins from Love.Trust.Faith.Lust.
"(I Masturbate) A Little Too Much" – Me and Joan Collins from Love.Trust.Faith.Lust.
Me and Joan Collins Official Website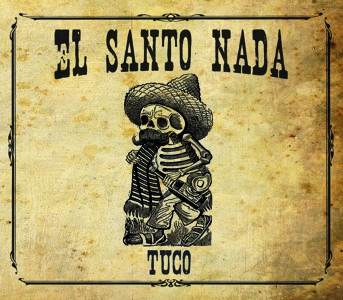 El Santo Nada – Pescara, Italy
El Santo Nada is a collective of musicians from Pescara, Italy which forged an eclectic identity through their exploration of Ennio Morricone's spaghetti western soundtracks, Mexican traditional music, instrumental and surf rock of the late '50s and early '60s, italian and balcanic popular music as well as British psychedelia and contemporary alternative rock.
In addition, they blend styles of sci-fi sound effects with instrumental guitar, bass and drum work that by themselves would be great for the soundtrack of a Quentin Tarantino flick with the flavor of Ennio Morricone and spaghetti westerns. Anyone who knows well the award-winning work of Tarantino as a director, and Morricone as a composer, will be able to easily hear the musical styles that appear in many of Taratino's films, most especially Kill Bill.
The collective have opened for artists such as Damo Suzuki, Gang Of Four, and Stan Ridgway, to name just a few. He lists among his biggest influences Ennio Morricone, Santo &Johnny, Ry Cooder, Marc Ribot, Calexico, Earth, and Wall Of Voodoo. The released the album Tuco in December. We will keep an eye and ear out for more of El Santo Nada.
"Gallinas Y Lagartos – El Santo Nada from Tuco
"Sciuorbazizi" – El Santo Nada from Tuco