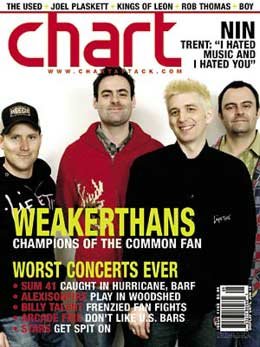 The Weakerthans, a Canadian indie band from Winnipeg, put themselves on the music map back in the late 1990's, and have been impressing critics and fans with subsequent, yet limited, releases ever since.

The band's latest album,
Reunion Tour
, released last fall, has received wide praise by the music press, bloggers and fans, making many top album lists for 2007.

Comprising an exciting mix of punk revival and melodic indie rock,
Paste
magazine hailed
Reunion Tour
as a collection of "songs of brutal beauty, little rock n roll vignettes that perfectly capture the malaise of the peculiar, disorienting times in which we live."

Here is the hit single music video "Civil Twilight" from The Weakerthans'
Reunion Tour
CD:


Propagandhi member John K. Samson left his former band and joined Red Fisher drummer Jason Tait and bassist John Sutton to create The Weakerthans in 1997. Later guitarist Steve Carroll and bassist Greg Smith joined the lineup.

The band, especially founder, John Samson, doesn't just record and play music; they are actively involved in promoting the fight against poverty and advocating for environmental conservation. Samson's 'day job' includes his publishing company,
Arbeiter Ring Publishing.
Reunion Tour
was, in a sense, aptly named since the band's last release before that,
Reconstruction Site
, was issued back in 2003 on Epitaph Records.
MP3:
The Weakerthans – "Plea From A Cat Named Virtue" from
Reconstruction Site
MP3:
The Weakerthans – "Aside" from
Last and Leaving
You can listen to and download more music, plus watch various music videos, from The Weakerthans on their official web site. Also, check out The Weakerthan's MySpace page and Facebook profile to social network with the band, get tour information, connect with fans and stream songs.

The Weakerthans were the first band in the CBC Radio 3's R3-30 chart history to hit the No. 1 spot with two different songs in the same year – a cover of Rheostatics "Bad Time to Be Poor" during the week of June 21, 2007, followed up in November 2007 by another No. 1 song, "Civil Twilight", their hit single from Reunion Tour.
The band released their debut album, Fallow, to wide praise from music critics and fans in 1998, on the indie label cooperative, G7& Welcoming Records. In 2000, The Weakerthans issued their sophomore record Left and Leaving, followed a year later by the EP Watermark.
Left and Leaving was eventually named one of the ten best Canadian albums of all time in a Chart magazine readers' poll last year. Epitaph re-released Fallow and Left and Leaving in Canada on November 6, 2007.