With the success of Vol. One of
Notable Indie Rock Debut Albums
, we've put together another edition, featuring exciting bands like LA's new indie artist to watch, LOVEYOU, Montreal's under-the-radar gem, Caveboy, the electrifying darkwave of the UK band The Colours; the dream pop project of Riverside-via-Boise musical duo Honey Bones, and Los Angeles pop rock band Marzoña. Please keep in mind these are just some of our favorite indie rock/DIY debuts.
If you'd like to submit music to Indie Rock Cafe, use our official music submission form. And we'd love to feel a little love back and have you follow and like us on Facebook; Twitter; Soundcloud; and Instagram.
– We have assembled quite the collection of unique and kick-ass indie rock playlists on Spotify – featuring themes like world capitals; cool and raunchy rock; and the on-going project (over 300 tracks now) of the Absolute Best Fu*king Songs Ever – and there are even more here.
Once you fire up some of these playlists, you'll see how hard we worked on them over the years. Playlists you will not forget.
Take note: This second volume of notable debuts is part of what we expect to be a new on-going series.
In This Installment
LOVEYOU – Los Angeles, California
Caveboy – Montreal, Canada
The Colours – Blackpool, England
Honey Bones – Riverside, California
Marzoña – Los Angeles, California

LOVEYOU – Sparkle & Crush
With influences that range from My Blood Valentine's iconic shoegaze guitars to the Beatles' power pop melodies, combined with the swirling instrumentation and electronic sounds of Radiohead, Los Angeles bedroom artist, songwriter, guitarist Andrew Stogel has a wonderfully rich musical palette.
Using the moniker LOVEYOU, and with help from bassist DK and drummer Josh Conway, Stogel composes and executes tracks reminiscent of 80's alternative pop rock together with big hooks intertwined with more recent indie pop/rock stylings on the debut EP Sparkle & Crush.
Tucked beneath darkly majestic hooks and hazy shoegaze atmospherics, the opening track, "I Want To (Make You Feel Happiness)" is a riveting start. Fans of The Cure are particularly likely to enjoy this track.
The second track, "Feels Like Me," is a much more straight away Brit-pop influenced track that has overtures to Oasis while "Awake at Last" veers into the dream synth pop tradition, followed by the 4-track EP's alt-rock, Wilco-like closing track, "Strawberry Cough."
We don't make comparisons to artists we love often when posting new DIY artists, but Stogel's musical talents and production abilities – with help from miser Will Okun and mastering engineer Riley Knapp – are just undeniable on his debut EP. These are indeed anthems for the introspective, and people who just really dig good music from a comparably under-the-radar artist.
Caveboy – Caveboy
In Montreal, three siblings grew up listening to their parents play Michael Jackson and The Beatles. "As kids, we all picked up an instrument here and there. The attachment to creating sounds and music came soon after," says Caveboy bassist and synth player Isabelle Banos.
In 2015, Banos and her sisters, Michelle Bensimon (vocals, guitar, synth) and Lana Cooney (drums, backup vocals), decided to start a band. Unlike most bands, they got almost immediate love on Bandcamp with the release of their first single, "Home Is Where," followed up quickly by their eponymous debut EP. The song was also featured on the six-track release.
Other songs like, "In The Grottos," and the driving, melodies of "Something Like Summer," further display the band's penchant for creating synth soundscapes without sacrificing the wonderfully buzzing guitars, bumping bass lines and stellar drum work.
"Music has chosen the three of us separately and collectively," Banos says, "and now all we want to do is continue to make and share our music with as many people as possible. "
"We're inspired by music from decades ago, and yet have a lot of respect for newer artists too." Some of the band's biggest influences also include Florence & the Machine, Beach House, Fleetwood Mac, Pink Floyd, and Bombay Bicycle Club. They've opened for artists like Brave Shores, Young Galaxy, Geographer, Chad Valley, and MEN.
Caveboy on Bandcamp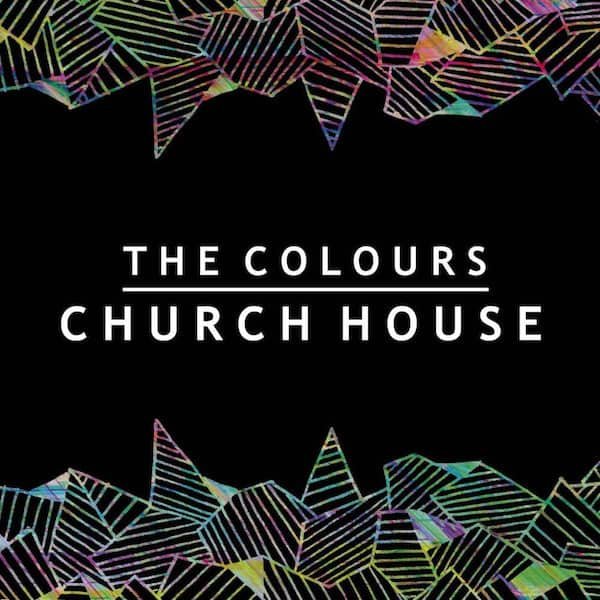 The Colours – Church House
With a passion for skateboarding and alternative and indie rock bands like Foals, Bloc Party and Bombay Bicycle Club, the members of the Blackpool, England band The Colours hit the ground running when they formed in 2007.
"We met though skateboarding and realized our passion for the same artists," says bassist Ben Swift. "We consist of guitar riffs, driven bass lines, dance drum beats and punk vocal style," he adds.
We love the menacing, darkwave track, "Mobile" – from the band's 2015 debut album, Church House – with its hard-edged electro rock driven by tight performances from Ben Swift's brooding bass lines; Jake Powell and Buckfield's angling guitars, and the perfect timing of Joe Packman on drums.
"To me indie rock is the rawest style of music there is where you don't need to do 'face melting' guitar solos or sing like a pop star, " says Powell who is also the lead vocalist.
There are other notable songs like "Finding The One" and the upbeat "The New You." The album is well recorded and produced, and demonstrates the band's evolution. They obviously didn't want to just drop a debut album for the sake of getting it out there; the band wanted it to be a real work of art – and that it is.
The Colours have opened for bands like Goodbye Channel, The Big Pink, Nicole Atkins, and Young Kato. Their musical influences include Bloc Party, Maccabees, Foals, and Bombay Bicycle Club.
Bonus Track (MP3): "The New You" – The Colours from Church House
Honey Bones – Honey Bones
A California-via-Idaho dream pop dance duo split geographically by thousands of miles bridge that divide when it comes to their collaborative music project spawned in the online world (which some say IS becoming our new actual world in many ways).
Calling themselves Honey Bones, the duo – David 'Bones' Mikkelson (Boise) and Ivan 'Honey' Silva (Riverside) – are certainly in sync when it comes to music as is demonstrated on the eponymous EP dropped in July of 2013.
The recording was actually many years in the making. Silva and Mikkelson were friends during their early teens in Boise, sharing a passion for music. In the early 2000s, Silva moved away to Riverside. The two stayed in touch; however, it was not until 2012 that they launched into a serious collaborative recording project.
The speed at which this project developed is impressive. Just a few months after Silva sent Mikkelson guitar and bass riffs, Mikkelson in a fervent succession added beats to one song and then another and then another.
Within a few weeks, the old friends realized they had enough material that they felt good about to put together an EP, and only a couple of weeks later, it was online for all to hear.
Hypnotic beats, jumping dance beats, rising and falling synths and flourishing melodies drive the anthemic mood on the song "Dragg," the duo's kick-off gem of a single (that received over 110,000 plays on Soundcloud alone), among other enjoyable tracks, such as "Breathfeelbloodbones" and "City Sleepers." As a whole, the EP plays like 20 minutes of wonderfully melodic, breezy dream pop.
At times, their music reminds us a bit of Kings of Convenience.
The duo's major musical influences include Deftones, The Cardigans, Placebo, Rage Against The Machine, Tom Waits and Charles Mingus. This Halloween they will release a new EP – Black.
Marzoña – Flower Girl
There are thousands of talented artists and bands in Los Angeles. We have certainly featured hundreds of LA artists over the years. One band you probably haven't heard of the indie pop rock band Marzoña.
The members of the band, headed by Alex Marzoña (guitar, vocals), met while attending Loyola Marymount University and began rehearsing together. By 2013, the band began working on songs for their debut EP, Flower Girl, which dropped in February of 2014. Then, in 2015, the band decided to go with the new band name.
Marzoña has already proven some credibility getting booked and performing at the landmark LA venue, Whisky A Go Go and the Glass House in the nearby city of Pomona. The upbeat, infectious "Flower Girl" is the title track of the band's debut EP.
The raw rock energy and passionate pop synergy of the track makes it a perfect song to add to a summer playlist, which is also the case for the track, "Lights." The other band members include Tucker Cubbon on bass; Sean Baba on keyboards; Brian Rodriguez on guitar, and Gianni Vollucci on drums.
Marzoña says the band intends to make music that is "created by musicians looking to make music for music and not for the spotlight." Good. That's what DIY and real indie is all about. The band lists among their top influences Arctic Monkeys, Muse, Foo Fighters, The Wombats, and The Strokes.
Bonus Track: "This is the Life" – Marzoña from Flower Girl